More than 2000 experts attended this event. People from around the world came together to network with their peers and discuss advanced solutions for building construction, comfortable urban environment and the use of information technologies in designing.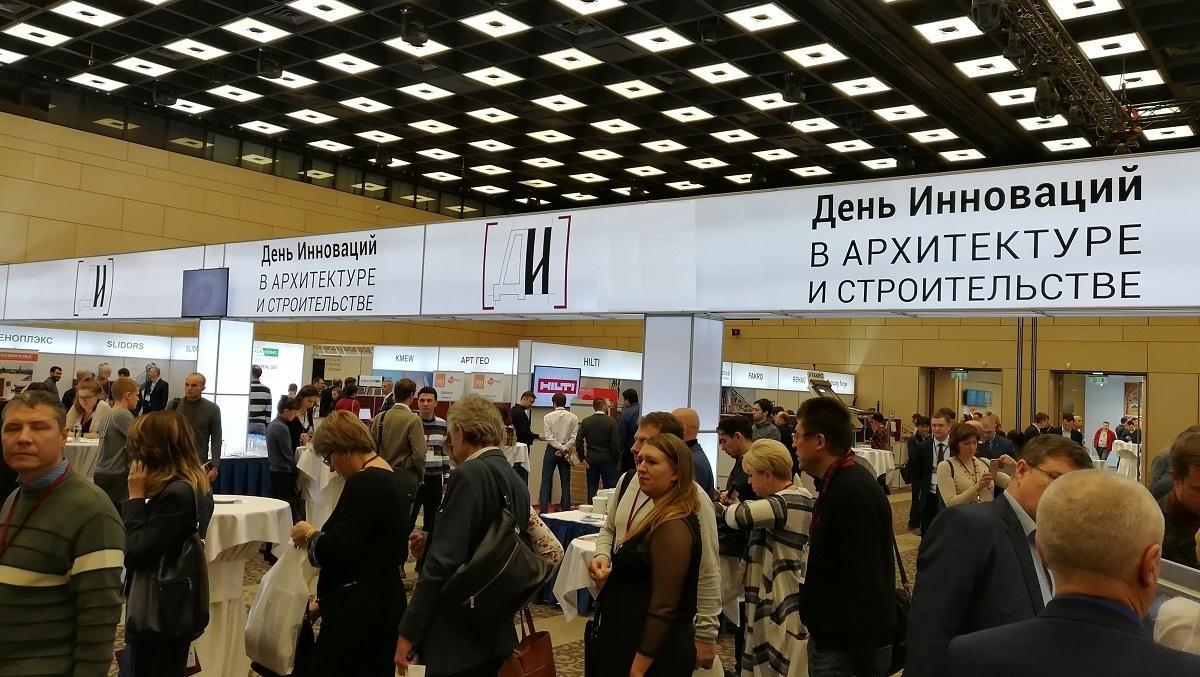 BIM Forum, as part of the Innovation Day, attracted the most participants' attention. 2 parallel sessions with 30 reports and 2 roundtable discussions focused on building information modeling. BIM developers and managers, project bureaus, construction and development companies had offered their expertise in BIM technologies implementation. Renga Software was represented by Maxim Nechiporenko, deputy director general, and Darina Sergeeva, marketing manager.
Darina made a report called, Renga Software: Information Modeling Starts Here. She began her speech by showing a photo of Antonio Gaudi's famous creation – Casa Milà, a modernist building in Barcelona, popularly known as La Pedrera or "The stone quarry". Built at the beginning of 20th century Casa Milà received much criticism, but now it's on the UNESCO World Heritage list.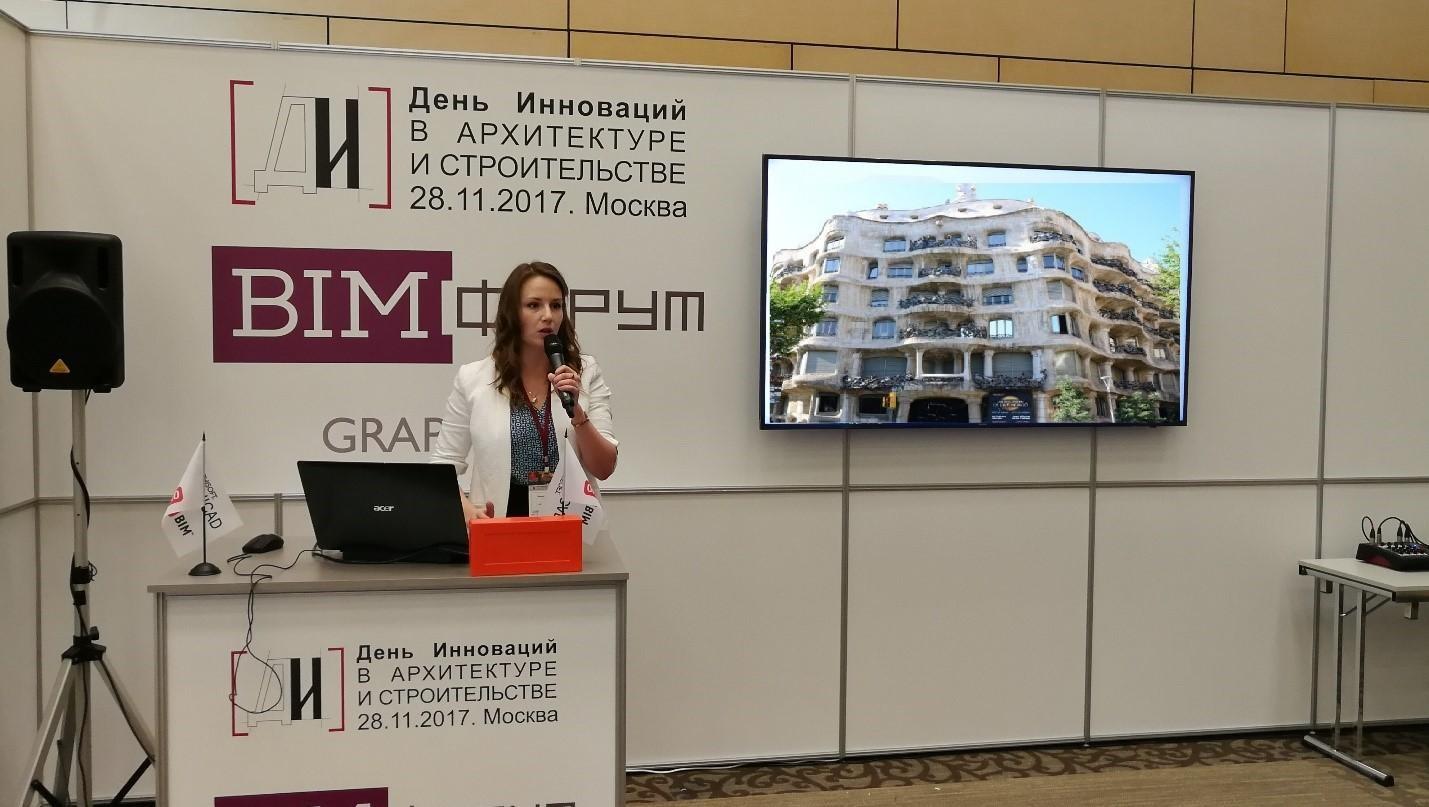 "In a manner of speaking, BIM is underestimated as well. The statistics say that only 15% of designers and architects are willing to adopt innovations, including BIM technologies. The rest are still devoted to 2D designing, manual preparation of specifications, regardless how much time it takes," said Darina.
According to the speaker, BIM primarily benefits architects and designers – saves time, reduces the potential for human errorand provides complete product visualization prior to physical construction. As soon as architects and designers make BIM their main tool, it would became an essential part of a construction phase," added Darina. After that she presented first Russian BIM system Renga Architecture and listed product main benefits: 3D modeling with object tools, intuitive interface, easy-to-use tool set, directory and data-base independence, lifetime license, integration with CAD systems and cost estimating software. As they say, seeing is believing, and after the presentation participants were shown a video of 1C headquarters 3D modeling process in Renga Architecture.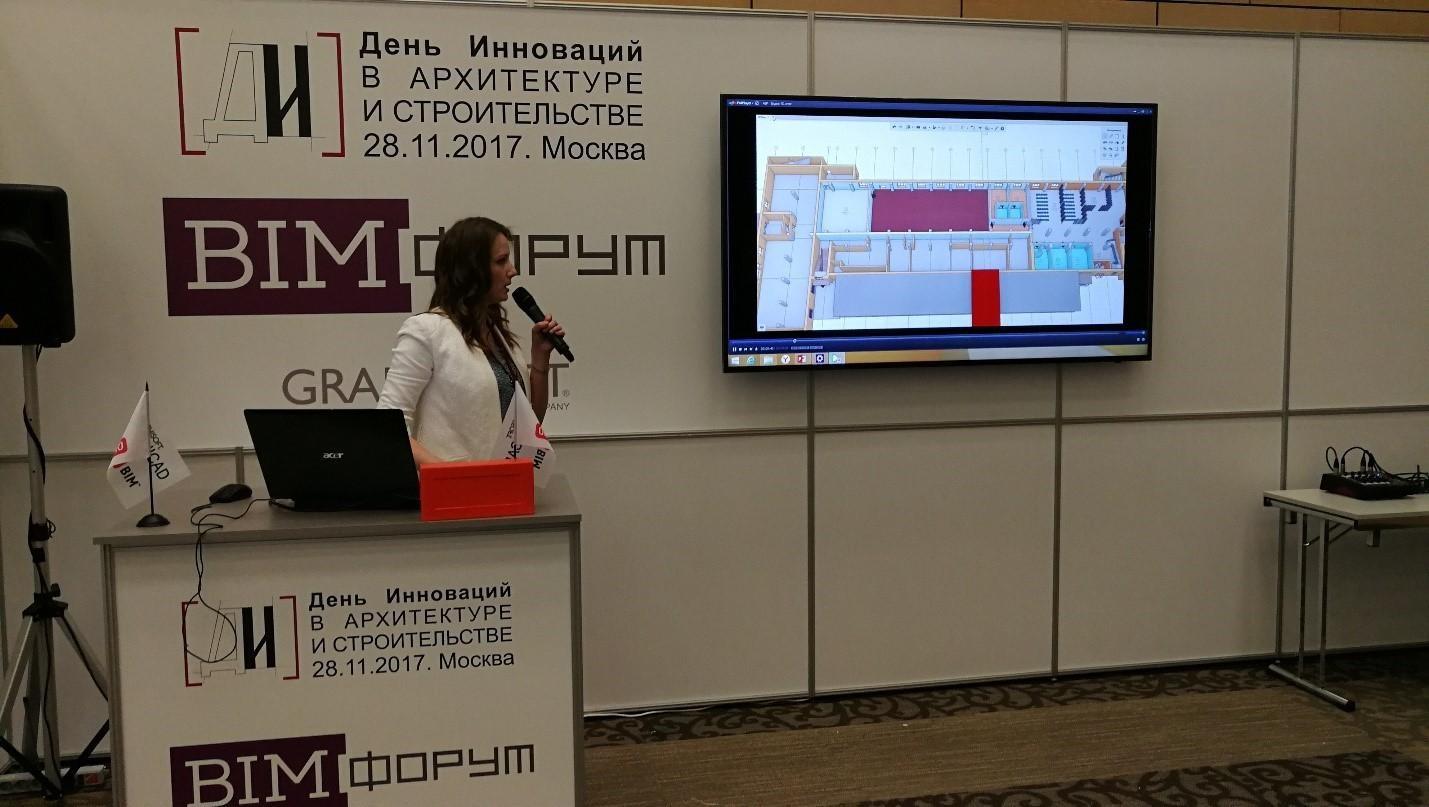 Sergey Lebedev, ITLand deputy director, continued Darina's speech by telling about Renga Architecture to 1C products integration.
Roundtable dedicated to digital transformation challenges had become a highlight of the forum. In the first part of discussion, speakers for Ministry of Construction shared their innovation technology support plan. After that IT companies' representatives discussed software communication patterns. One product cannot meet the needs of the whole construction industry, that's why software integration development is so important. There are several approaches to software integration, such as using an open or proprietory BIM file formats. Open ones like IFC format are often criticized for high probability of data loss, proprietary for anti-competitive potential on IT market. Maxim Nechiporenko, Renga Software deputy director general, reminded participants about another one approach – integration through application programming interface. For example, to import 3D model from BIM to estimating software, API is the most suitable method of communicating.
Another issue discussed was the training of BIM specialists. Roundtable participants discussed the prospect of including the new specialities like BIM manager and BIM coordinator in education system.
Maxim Nechiporenko pointed out that some of the Russian universities of civil engineering are already have a similar speciality – CAD engineer. "It would be more rational to teach future CAD engineers basics of information modeling and introduce them to different BIM systems, rather than create a new speciality. For future architects, designers and constructors it might be useful too," considered Maxim. In his opinion, BIM manager performs the same functions as a chief project engineer. This position requires technical competence, organizing and managerial skills. "Students are taught how to prepare drawings and make an estimate, but they have little knowledge about project or human resources management. Instead of creating new speciality BIM manager, universities should teach their students business process engineering and electronic document flow management," summed up speaker.
More than 200 forum participants visited Renga Software exhibition stand. Wearing virtual reality headset they walked inside 3D building model and learned more about Renga Architecture BIM system.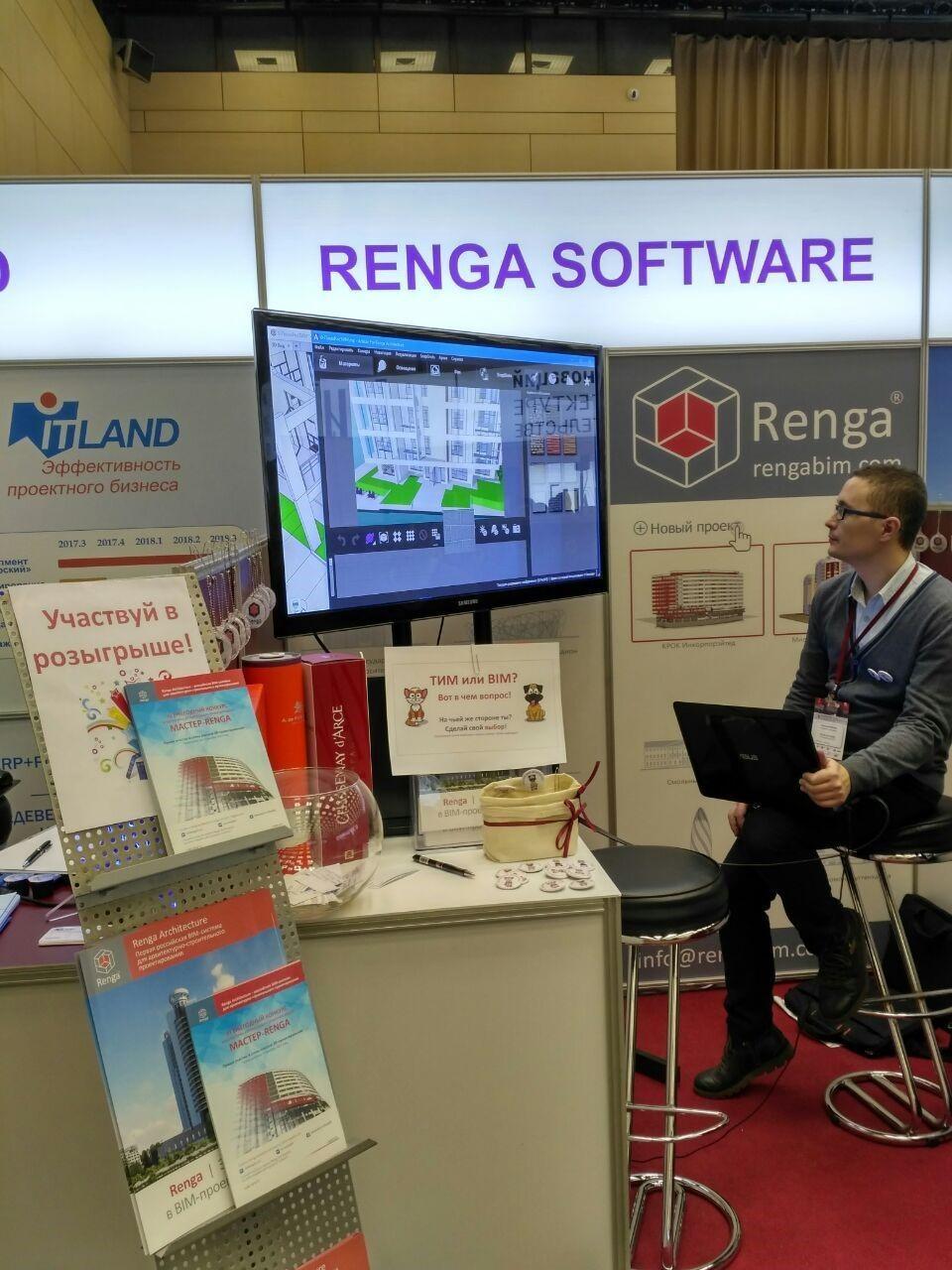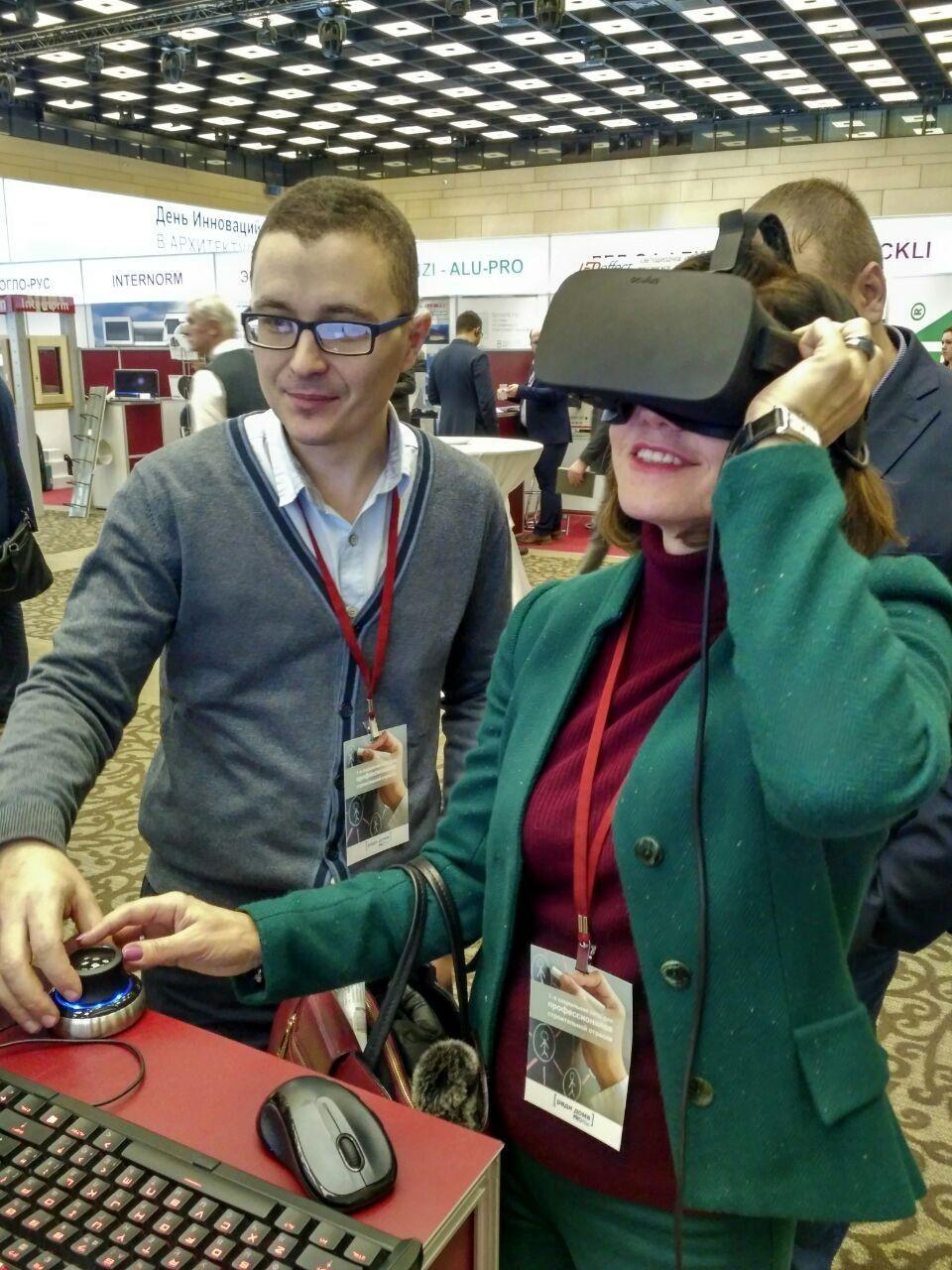 Forum was followed by an awards ceremony aimed at architectural and construction firm leaders. Renga Software had won in the category of Innovative Services, having proved its status of a young and promising Russian BIM company