21-10-2019
Renga, Powerful Architectural and Civil Engineering BIM Software, Is Now Available to Everyone!
By Daria Romanyuk
For several years now, Renga Software, Russian AEC solutions developer, has been designing first home-grown BIM system.
Renga is a complex 3D modeling software, enabling architects, designers and MEP engineers to carry out their performance-intensive tasks. Renga Software product line includes three efficient BIM systems: Renga Architecture for architectural and construction design; Renga Structure for structural design of buildings and facilities (reinforced concrete and metal structures); Renga MEP, solution for mechanical, electrical and plumbing engineering (design of water supply and sewerage system, heating system, ventilation and electricity supply system) is to be released in the fall 2018.
Simplicity is the soul of genius
Renga BIM systems deliver clean, easy-to-learn and intuitive interface, proving that simplicity is the soul of genius. Focused on 3D modeling, Renga interface optimizes software performance helping users work more productively and automate routine tasks, so AEC professionals can concentrate on the design. It's an ultimate time saver allowing to learn the functionality in just two days.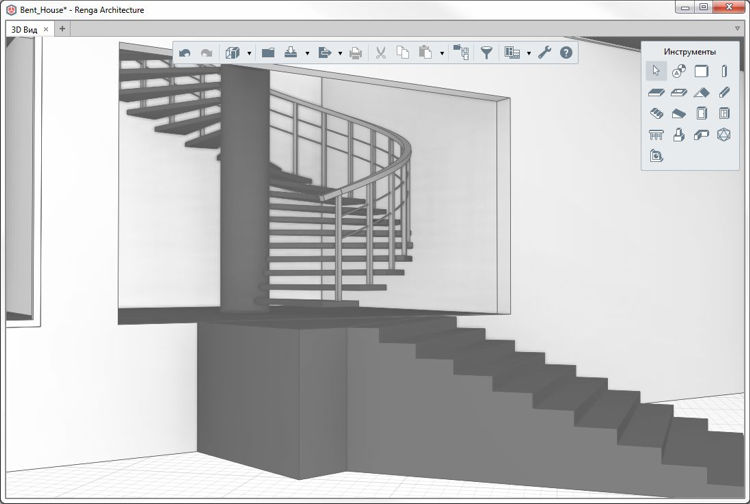 Software interface
One of the key features of BIM technology is the ability to assign properties for 3D model objects. User can fill objects with both geometric (height, depth, length) and non-geometric data (fabrication information, material, standard service life etc.)
3D modeling technology enables users make the right space-planning decisions, adopt rational structural concepts and capture design intent, saving time and boosting productivity.
Good news for everyone familiar with instance references and data libraries problems - Renga product team decided to avoid implementation of instance references. An empty reference is no longer a problem - software provides designers with tools needed for creating new ones. Renga developers designed an efficient, all-in-one Styles tool that enables users generate the required number of building elements. In less than a minute user creates required architectural or structural object more closely capturing design intent. No need to upgrade families and waste precious time setting up data libraries. Literally within minutes software solution provides user with brand new window, door or beam section styles. All created for a specific project styles can be saved and reused in future. Users can import 3D objects to Renga from other software systems using the IFC format.
To create a drawing, designer only needs to place already designated and properly scaled views and sections in the drawing template. There is a rich set of tools available for designers: production tools, callouts, tags, dimensions and many others. And on top of that, a large number of tools get in the drawing automatically from 3D view: dimensions, grid lines and section symbols. Any modification of 3D model instantly updates the drawing. All the drawing production tools in Renga are designed as per Russian Standards of the system of design documents for construction (SPDS). It provides designer with lots of benefits: greater optimization and improved quality of modeling by reducing the number of manual operations needed for creating required elements.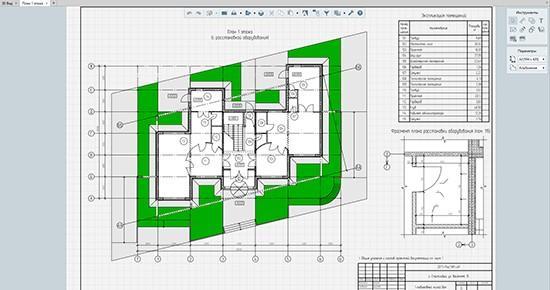 Preparing the drawing
From now on users can forget about manual scheduling. Renga BIM system significantly increases productivity by generating schedules within seconds. All 3D model data automatically gets to the schedule right at the moment 3D model is created. Users can get schedules created as per All-Union State Standard (GOST) or configure them according their personal needs and requirements or according foreign standards and regulations. For example, designers can add, remove and reorder columns, modify row height, group and sort schedule data, and obtain final quantities. If the client requires tabulated model data for use by word processors, Renga BIM system provides CSV export of data to Excel. But most importantly, any modification of 3D model automatically updates schedules.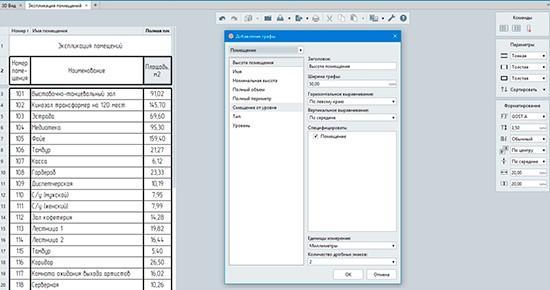 Creating schedules
Comprehensive approach
Renga offers a comprehensive approach that provides AEC pros with three productive and highly efficient BIM systems, completing all performance-intensive tasks and delivering more comprehensive and integrated design workflows. Architect creates model of a building, defines its style, elaborates interior and exterior. Next the designer steps in. Working in Renga Structure, user refines supporting structures, designs sections of structural elements and reinforcement. Hardly any construction object can do without MEP systems. Renga MEP, the third BIM system, enables mechanical design engineers work more productively, streamlines and optimizes the design and modeling of water-supply system, sewage system, heating system, ventilation and electrical power system. Among the big benefits for users is a feature for smart routing that enables automating routing of pipes with reducers and pipe tees, taking into account placement of equipment.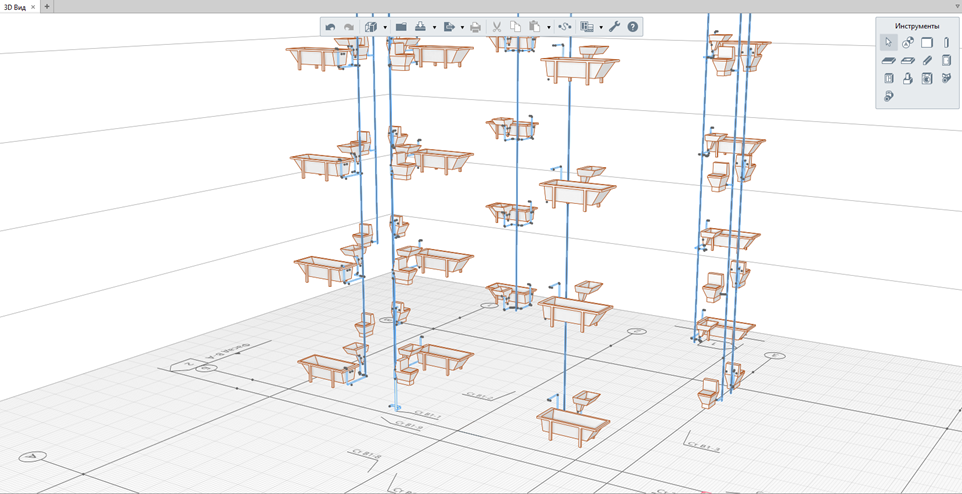 Automatic routing in Renga MEP
Cost estimate provided from 3D model
Renga development team implemented integration to 1C and ABC-4 cost estimating software systems that provide estimators with the important ability to participate in designing process in the early phases of the project. Previously, cost-engineers couldn't estimate the project till they have all documents ready. Now estimators can participate at the early modeling stage. The estimator's work thus gets a lot easier. Besides, there's no need to wait for designer to finish his project, estimating and 3D modeling can be done alongside. No need to go into draft details and ask designers for more information, because 3D model already contains necessary object data.
Connected Design
All three BIM systems perfectly interact with third-party software, including packages that implement structural analysis and cost estimating software. Loss-free and efficient data exchange across different software is provided by IFC, an open standard for the exchange of building data models. Renga designed model easily opens in any other CAD-enabled software, with all the building elements and their properties and valid data stay in place.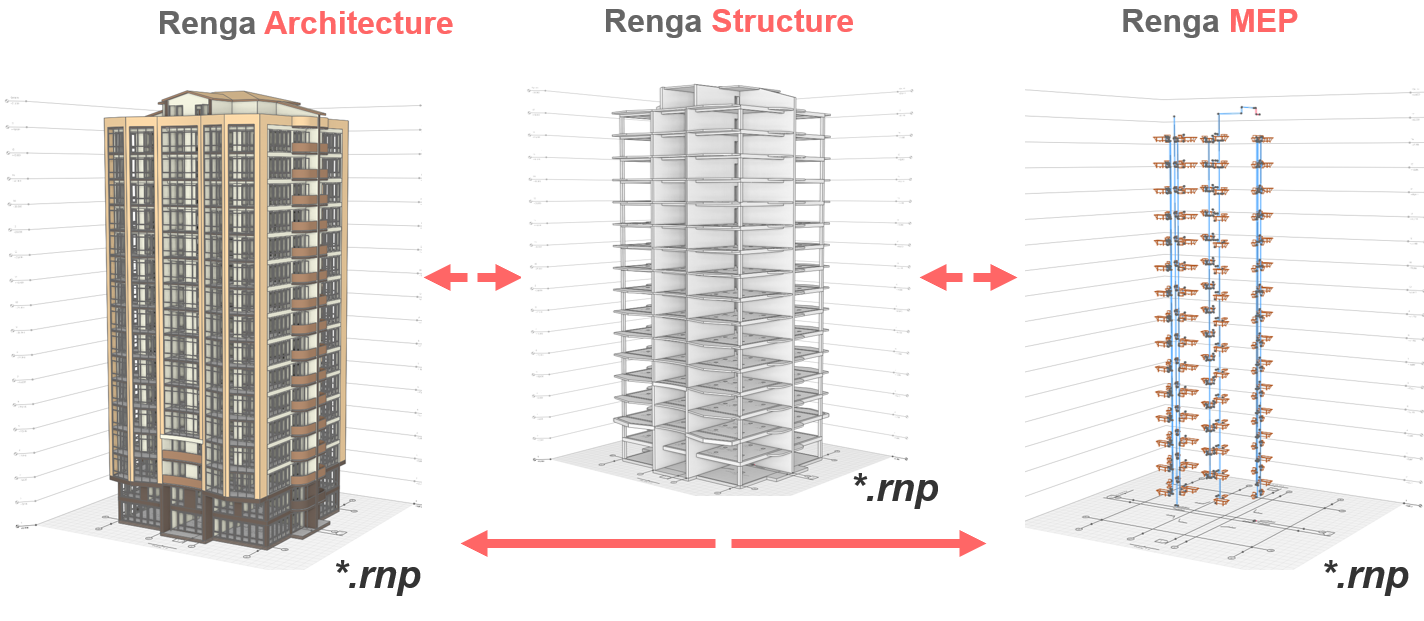 How all three systems interact
At the moment members of the project team can work with files by turns. But by the end of 2018 Renga development team plans to implement feature that enables worksharing, a design method that allows multiple team members to work on the same project model at the same time in Renga software. If we talk about worksharing experience using different BIM systems, project team members can use Pilot-ICE and Pilot BIM-server, two efficient data management systems providing more comprehensive and integrated design workflows. Co-working on a project at the same time, architect, structural engineer and designer can see all the information from 3D Renga building model. For example, changes made by architect would be immediately reflected in all the project team members' drawings.
3D models and construction management
Renga 3D building information model can be used at all stages of the construction object life cycle, including building stage, providing more comprehensive and integrated design workflows. This is possible due to the BIM system Renga and the latest configuration of 1C:ERP Construction Enterprise Management integration.
Renga for everyone!
We at Renga Software do everything possible to give our users a better 3D modeling experience by providing them with benefits of this new tool: increased productivity, greater optimization, and improved quality of modeling by reducing the number of manual operations needed for creating a 3D model. An enormous number of Russia-based enterprises still design in 2D because unable to afford the high cost foreign-produced BIM software. We aim to overcome these financial barriers. Get a comprehensive set of tools for one great price that's significantly lower than the competition's. Users from Russia and Belarus have already evaluated the benefits of Renga Software BIM system. For example, Belorussian republican unitary enterprise "Belzhilproekt" created an information building model of Minsk military hospital administration building for further reconstruction.
Download full trial version now and create your first 3D model in Renga Software BIM system!
We make BIM accessible!