New Renga release delivers an important piece of functionality from our Renga Roadmap for 2021: new enhancements geared towards tools for automatic drawings production.
We also added new quantities to the latest release. Every architect can now quickly calculate the glazing area for windows and doors and apply it to the model. For example, users can now calculate reduced total thermal resistance or mass of the structures using formulas, and then define energy efficiency class of the facade transparent structures.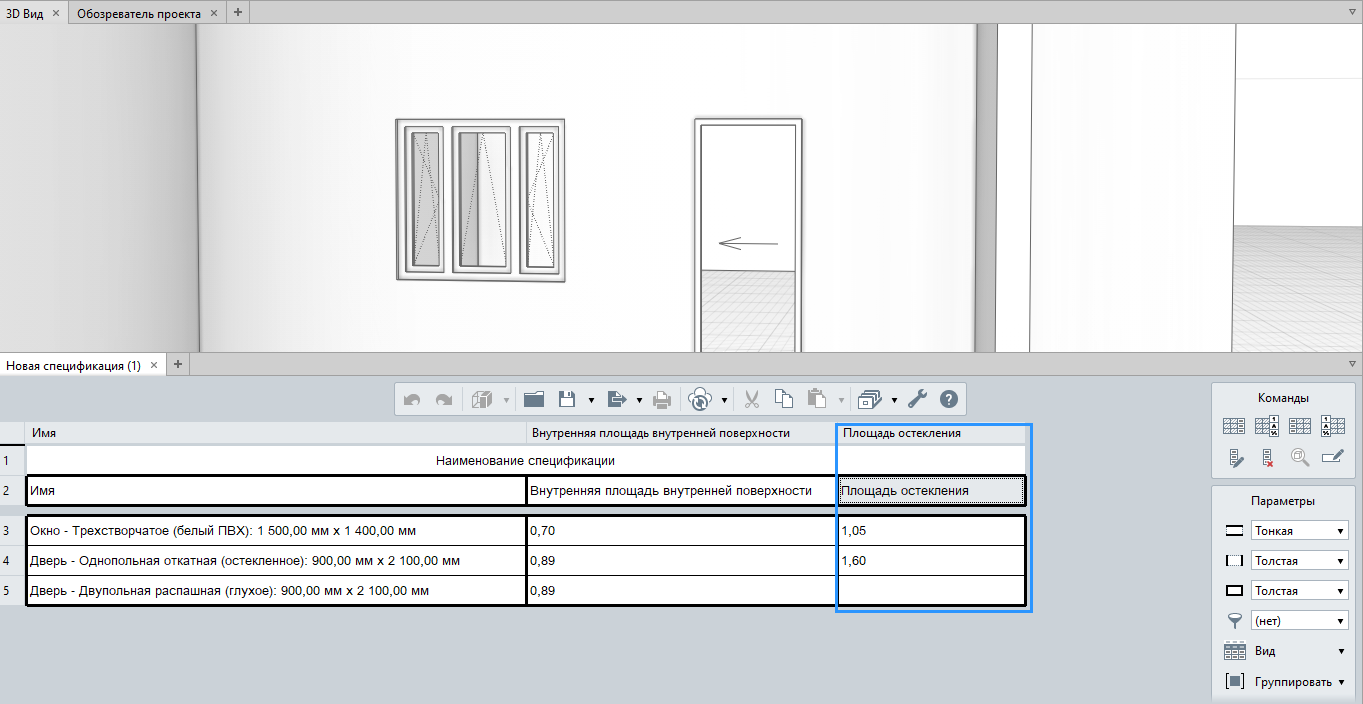 Glazing area in the Schedule
Here's the quick example of how this new capability might help architects. Having received the automatically calculated reduced resistance to heat transfer of the window, architect needs to compare it with the required one. The figure above shows the R-value to be low (R=0,56°C⋅m2/W), especially for buildings at high latitudes where winter daylight levels are low, like in Saint Petersburg. In this particular case, an architect ought to change aluminum window profile to PVC window profile, or design low-emissivity glass windows.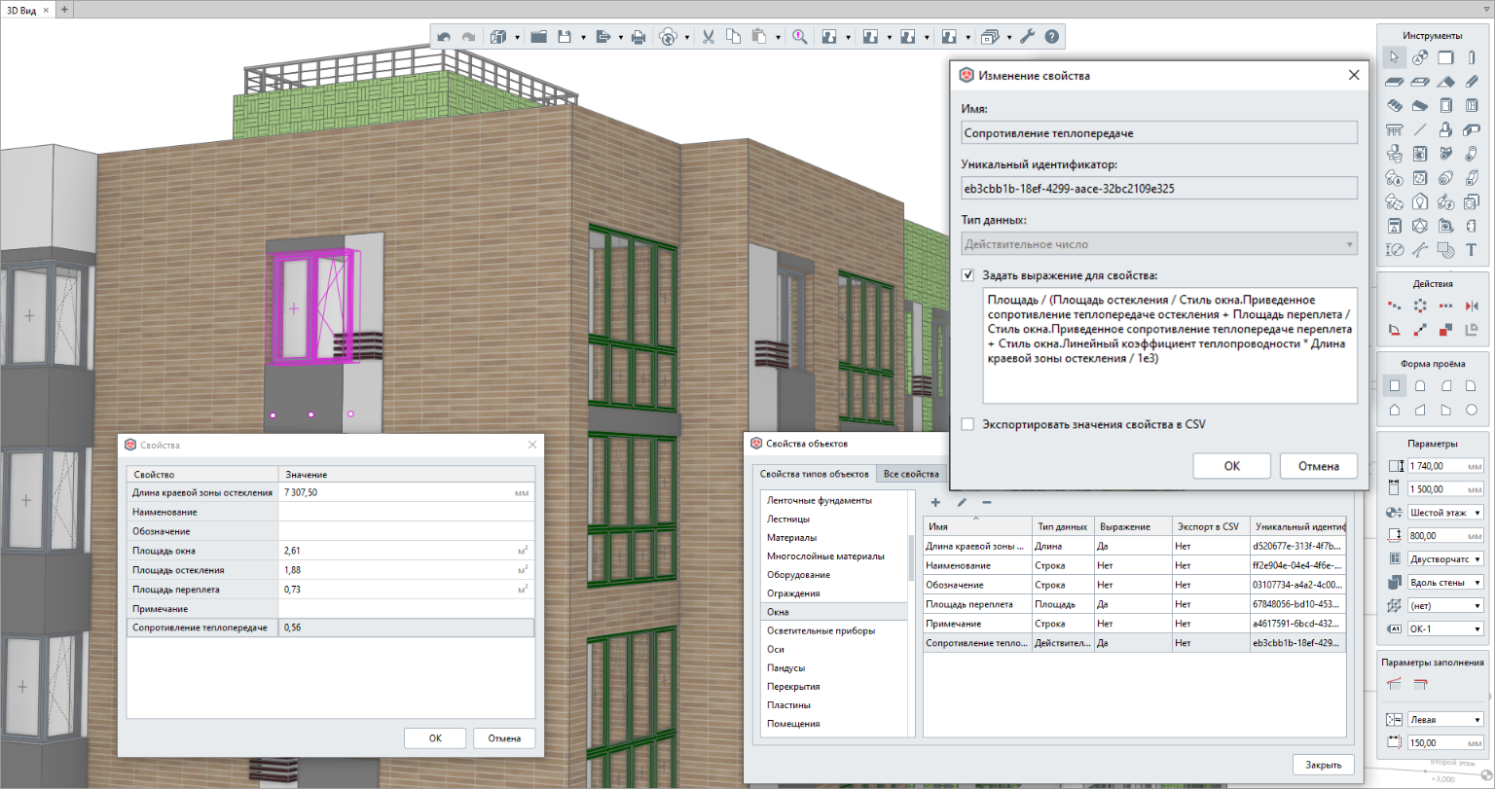 Calculating reduced total thermal resistance of the window using formulas
In order to make engineering analysis more efficient, we've added new quantities: cross section area and cross section net area for ducts and pipes. Using this quantities, engineers can easily calculate velocity and flow for air and liquid in building utilities.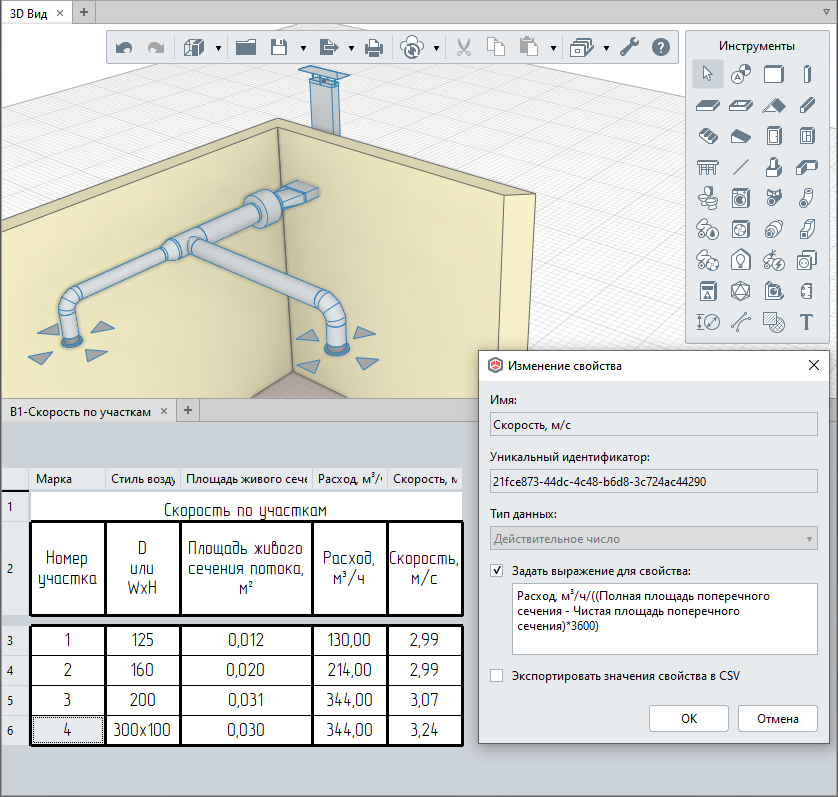 Using new quantity in formulas to calculate pipe line velocity when performing aerodynamical analysis
These quantities were highly requested by our users who often perform aerodynamical analysis.
Evolving the product by adding new features, we've improved functionality for assemblies: our development team implemented the ability to use Mark parameter in formulas. It will allow our users to generate schedules of deliverable assemblies automatically.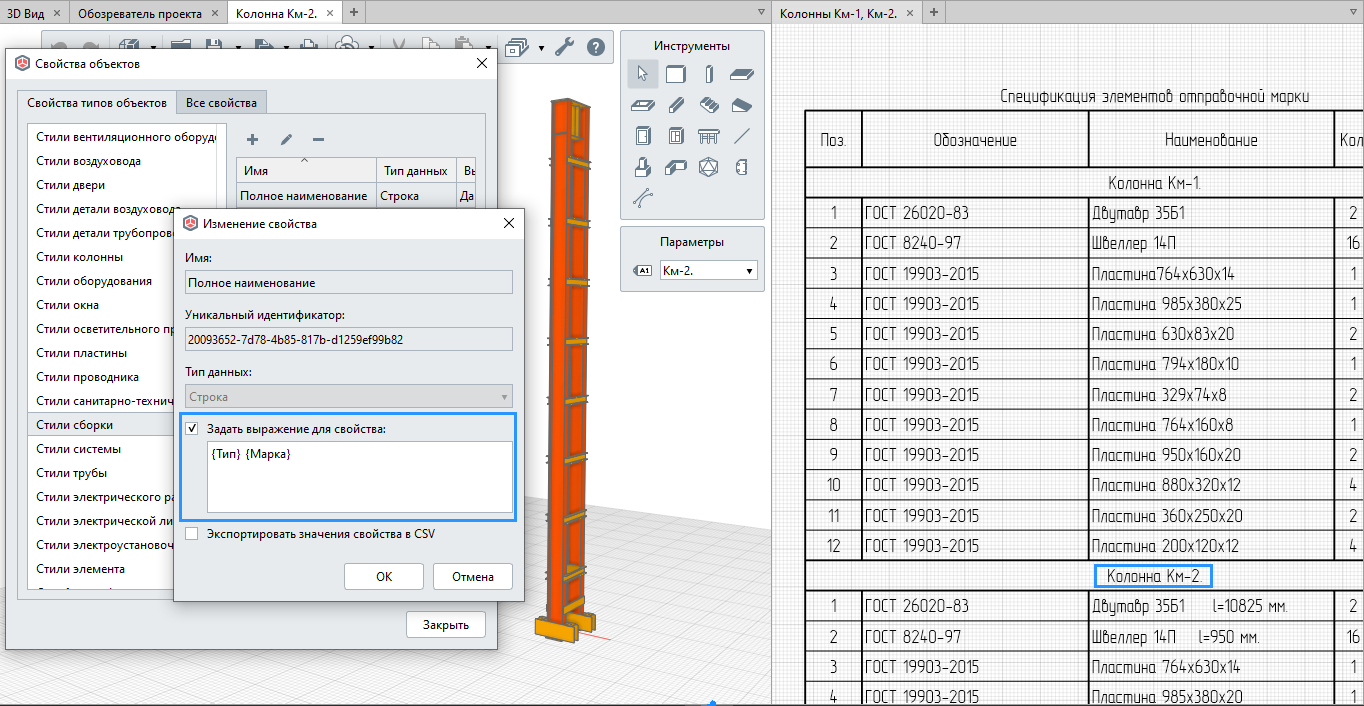 Using Mark parameter in formula in order to create schedules of deliverable assemblies
Renga development team implemented the ability to set the section plane and the view depth in the Level designation parameters. Users can now access the level parameters both in the Level mode and in 3D view. These parameters are located on the Parameters panel. Renga users no longer have to constantly switch between the modes in order to change settings of, for example, section plane level.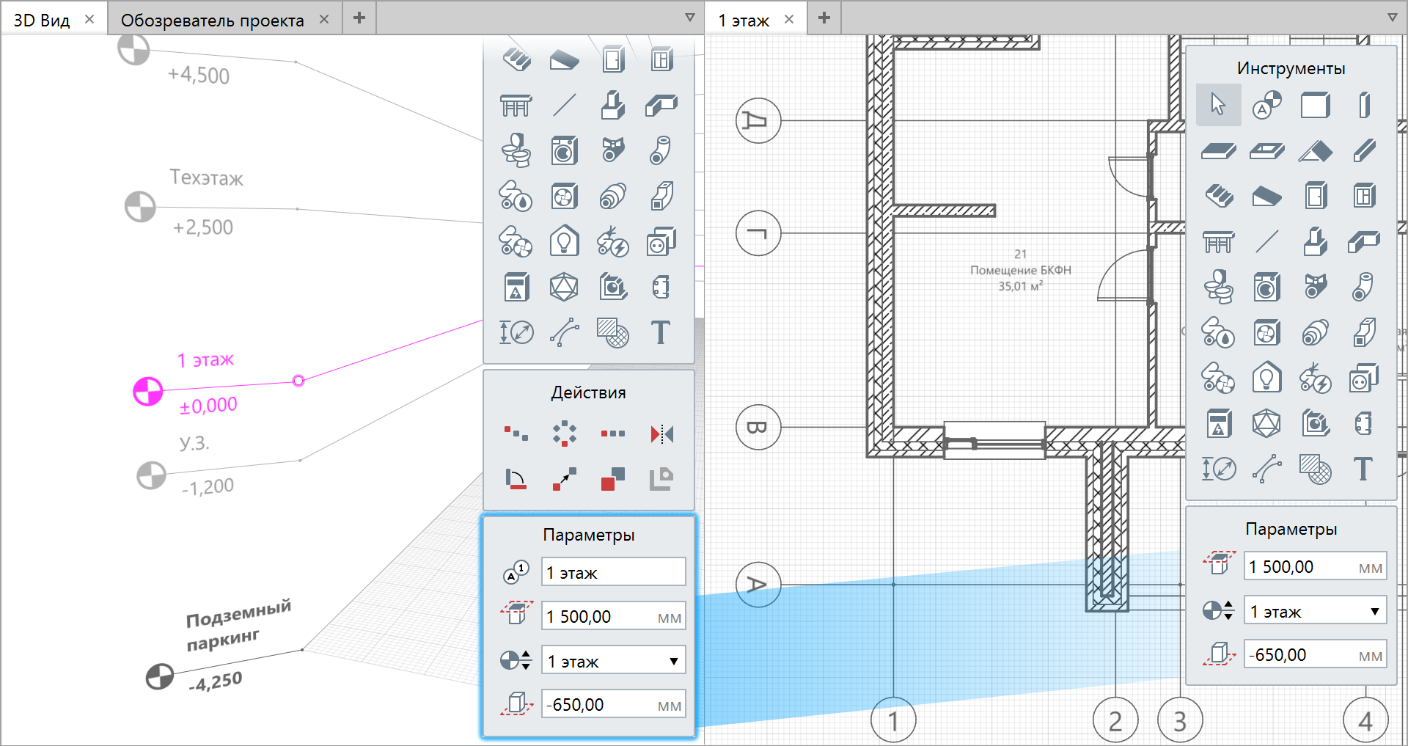 Users can access section plane parameters both in the Level mode and in 3D view
We continue on developing scripts written in LUA programming language to further expand our equipment styles set. Our users will surely appreciate the enhanced equipment list when designing for clients.
The result of us developing LUA scripts you can see in the latest Renga release that delivers the new style of low voltage distribution board.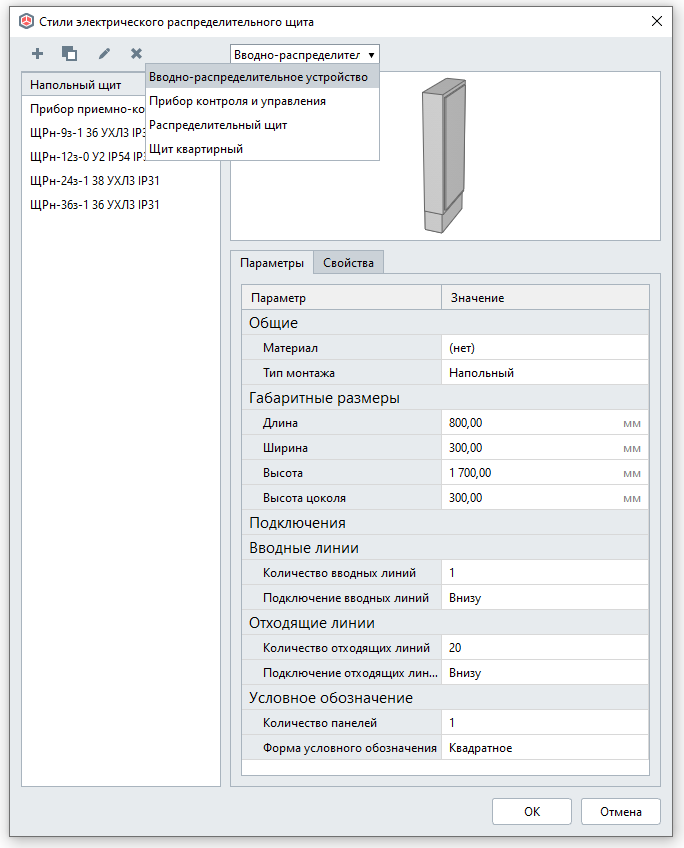 Style window of low voltage distribution board
The new style comes with configurable parameters and a symbol level of detail which displays low voltage distribution boards as symbols in the drawings.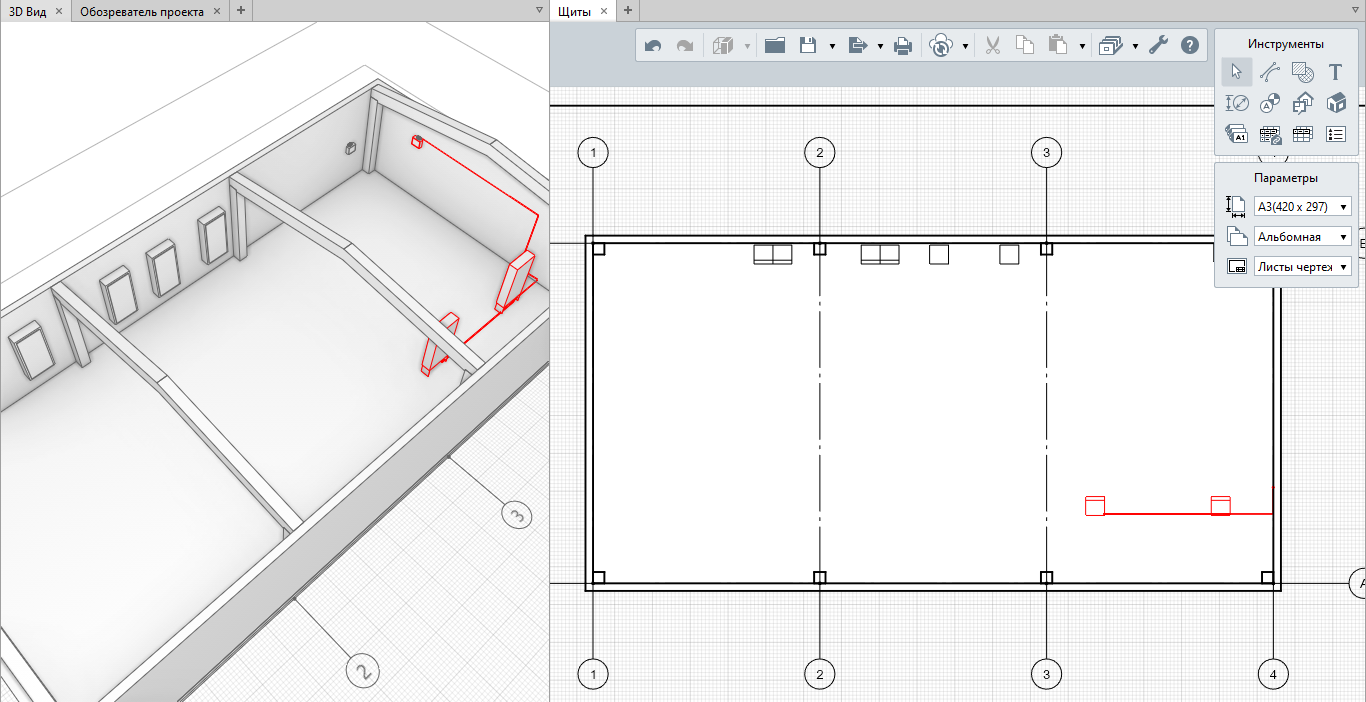 Displaying low voltage distribution board with symbol level of detail in the drawing
In this release we've continued on enhancing Project Explorer functionality in Renga. We implemented the capability to set custom properties to drawings, tables and schedules, providing the ability for designers to use it in their workflows. They now can, for example, use drawing properties when automatically filling out the title blocks.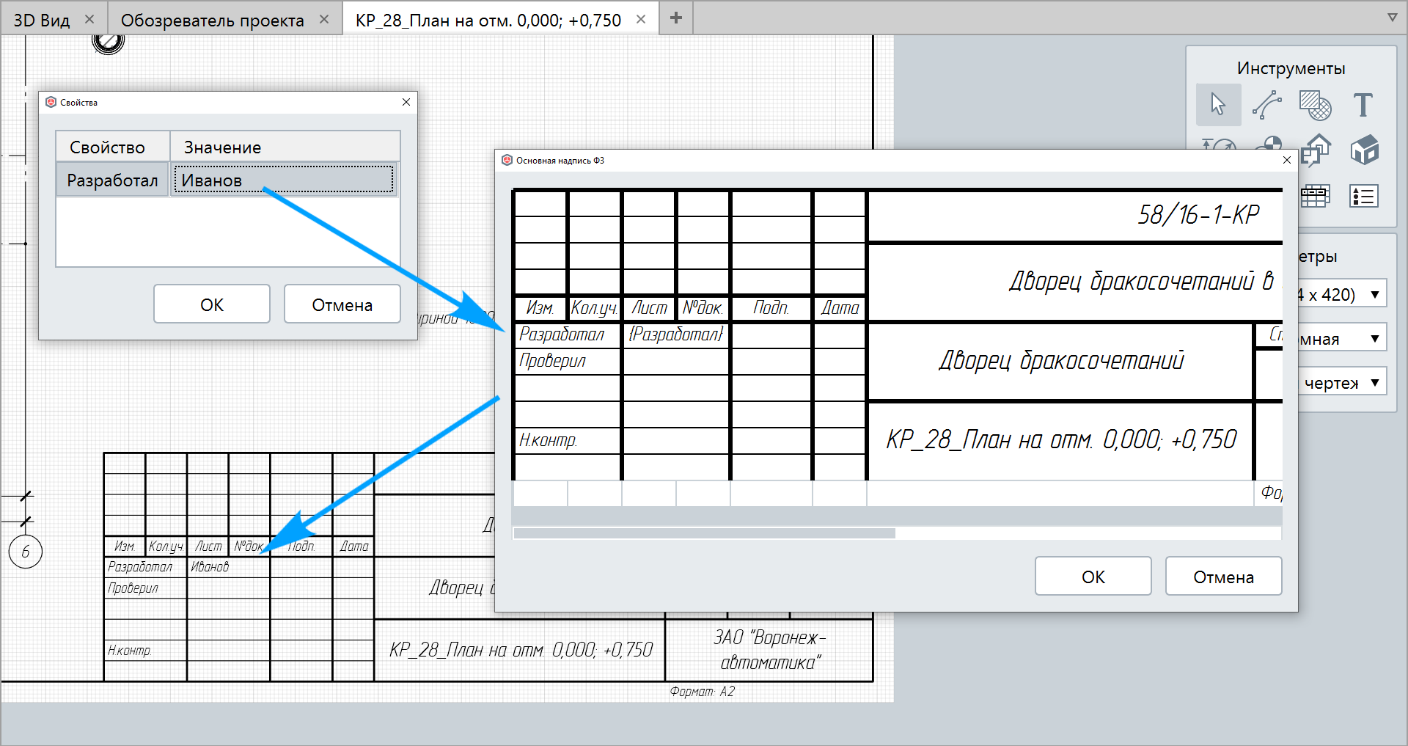 Using drawing properties when automatically filling out the title blocks
Users can set custom properties in Object type properties tab of Object Properties menu.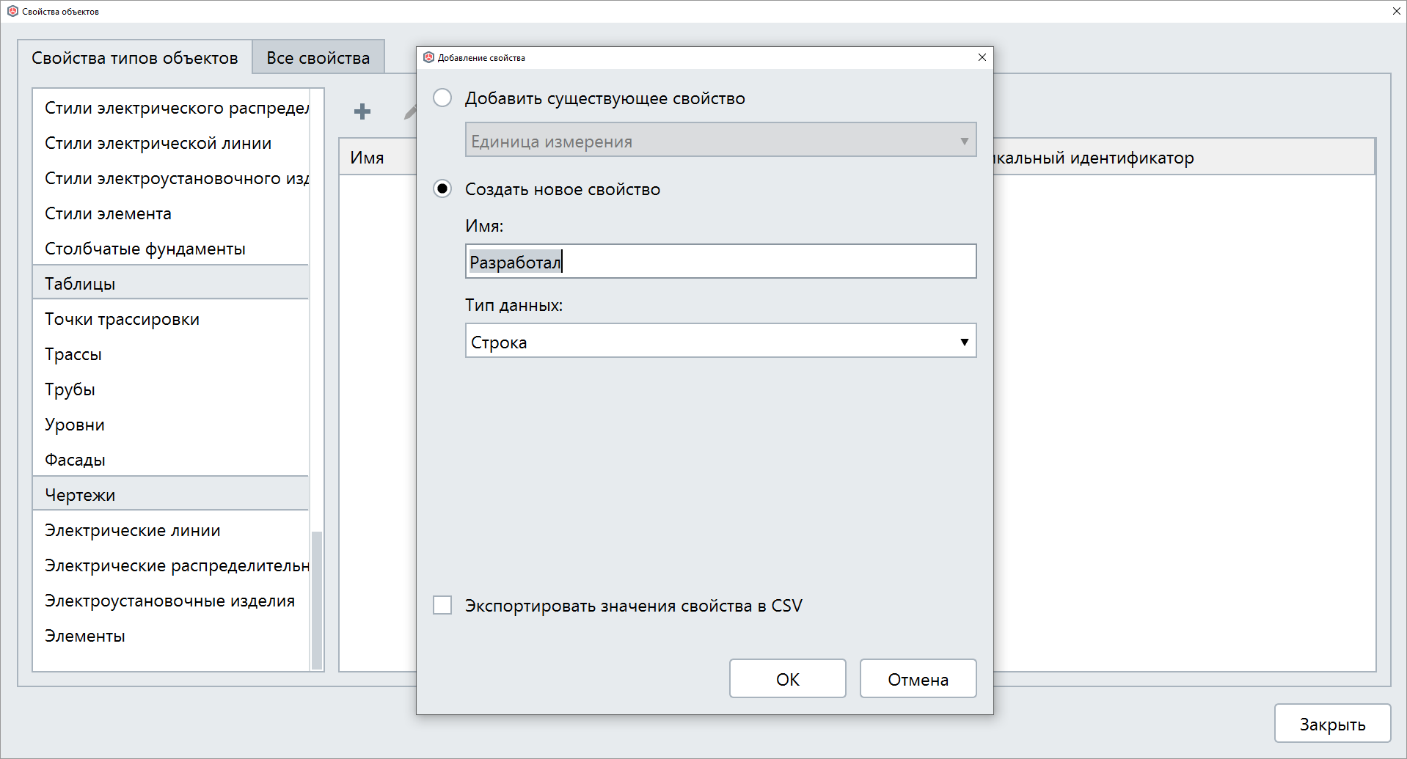 Setting properties to drawings, tables and schedules in the Object Properties menu
To provide our users with the ability to work with custom properties in tables and schedules, we added Properties button to the Commands panel. Property values can be set in the shortcut menu.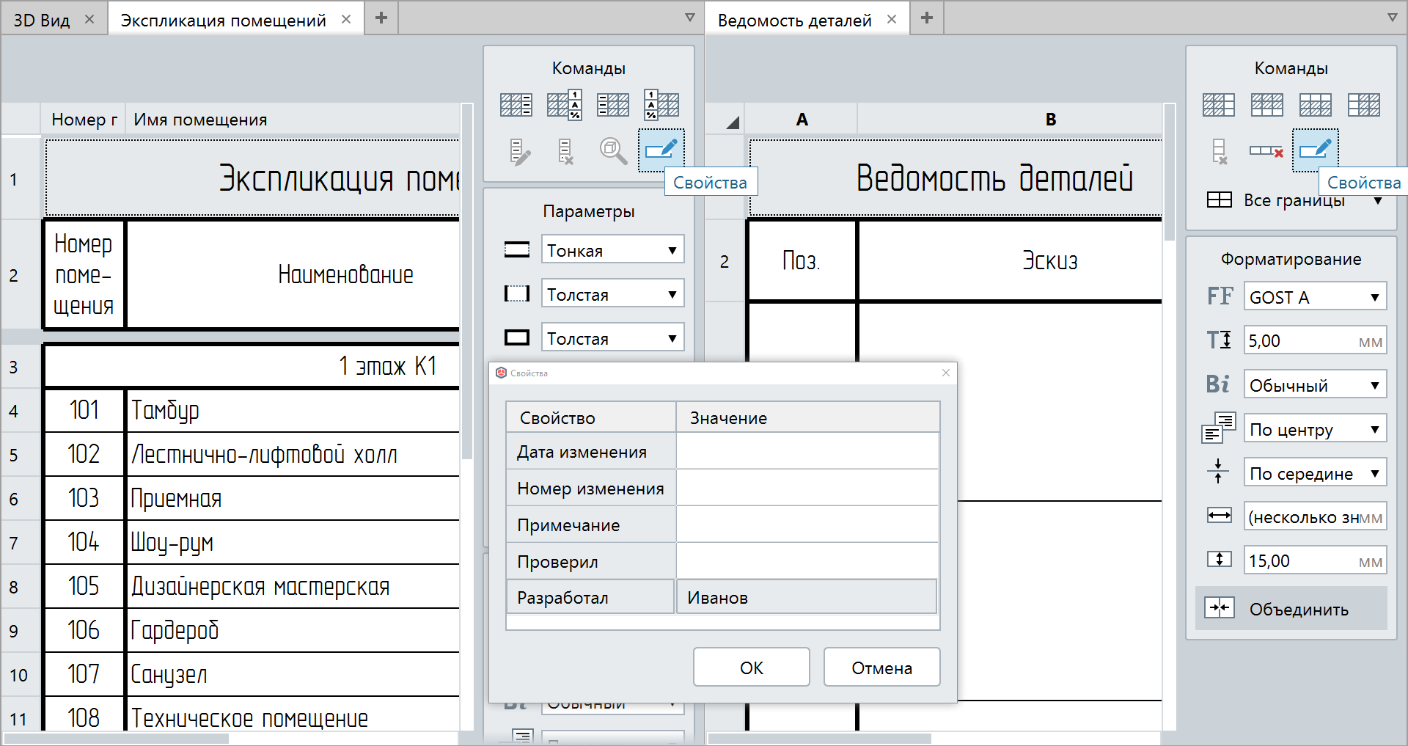 New Properties button on the Commands panel allows working with tables and schedules properties
Renga users can now export to CSV Drawing, Table, and Schedule parameters and properties. This functionality provides users with tabulated data and ability to use it when generating various reports.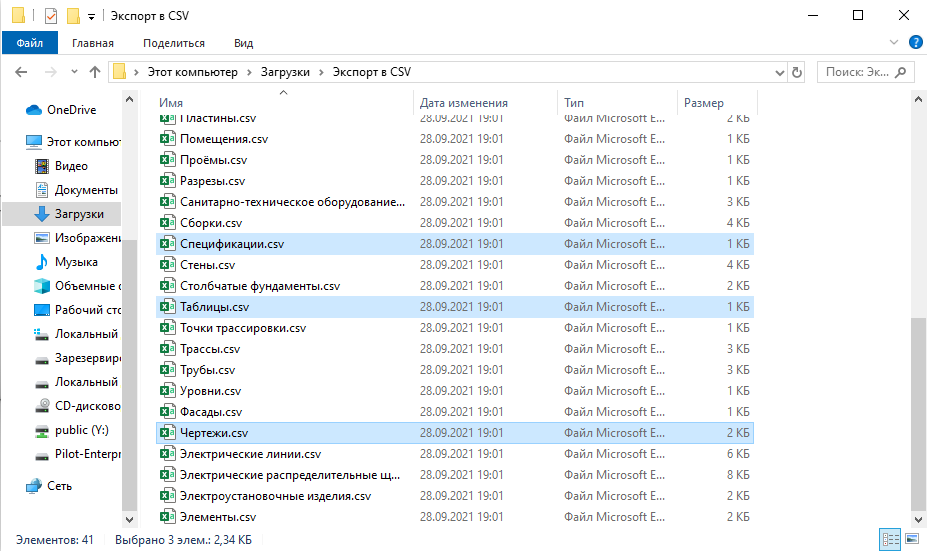 The resulting project data export to CSV
Apart from buildings and facilities design, AEC professionals often face a more challenging task - how to coordinate the resulting 3D building model with other capital construction projects. Renga successfully covers the majority of designing and engineering tasks, but coordination is best performed in dedicated software like Solibry and Pilot-BIM.
We've already discussed coordination and how to set project parameters for further transfering to software like Pilot-BIM. When working on major projects consisting of several buildings or facilities, model coordination is crucial. That's why Renga development team implemented Globally Unique Identifier (GUID) that is associated with each object in a model. Unique identifiers can come in handy when users try to author and assemble models concurrently with other team members in data management software. Let's have a look at the example down below.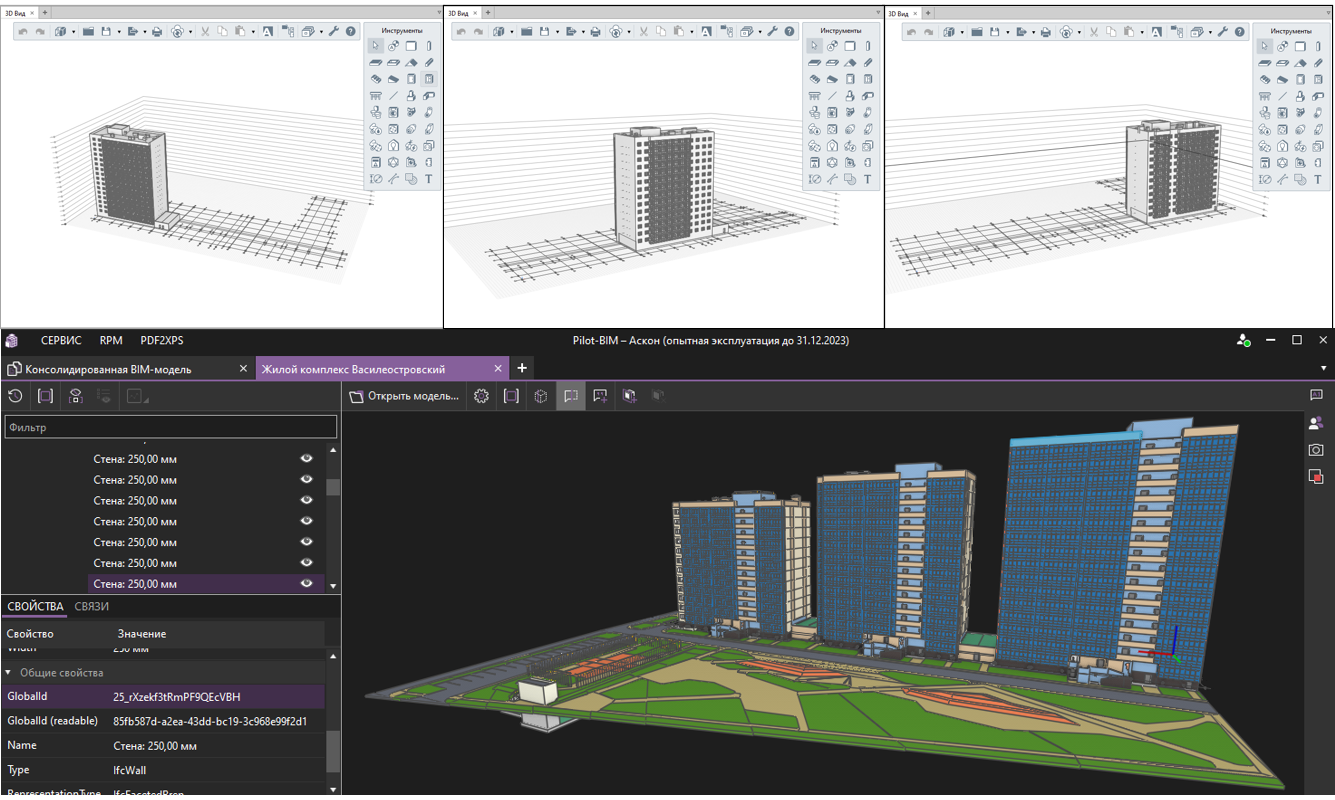 GUID objects autogenerated in Renga and consolidated in Pilot-BIM
Suppose a design company is developing a residential complex consisting of several buildings. To design information models of those buildings, the project team members will usually use their own template. The template might contain laying out axis, levels and sometimes objects. It is worth mentioning that each template object already has its own GUID. Now each project team, using the prepared template, creates information models of buildings of the residential complex. In the course of such work, template objects become objects of new projects developed alongside in Renga system.
As a result of modeling, all projects are merged together to coordinate data, for example, in the Pilot-BIM.
If all models from one template were developed in Revit or another CAD system and brought together into one consolidated model, the user will receive an error warning, since most CAD systems do not generate new GUIDs for objects below Project, Site and Level.
But we at Renga, realizing the importance of such a task, implemented the ability to generate new GUIDs for all the necessary objects obtained from the template, thereby helping users to avoid the problem of assembling and checking a single coordinated model.
Renga team significantly enhanced IFC4 export and import, so our users can be confidant that they are provided with fully certified IFC import and export based on buildingSMART IFC data exchange standards. With this improvement we've taken a step closer to OPENBIM approach and made data exchange much more secure.
To make IFC workflows even more useful, we added the ability to move objects to the Assembly and to edit them using nutation angles, precession angles and spin angles. For example, to position IFC floor slabs on the sloped beams, structural engineers need to copy slabs to the Assembly. After which they copy the resulting assembly and set up rotation angles to this assembly placing the slab in the required position.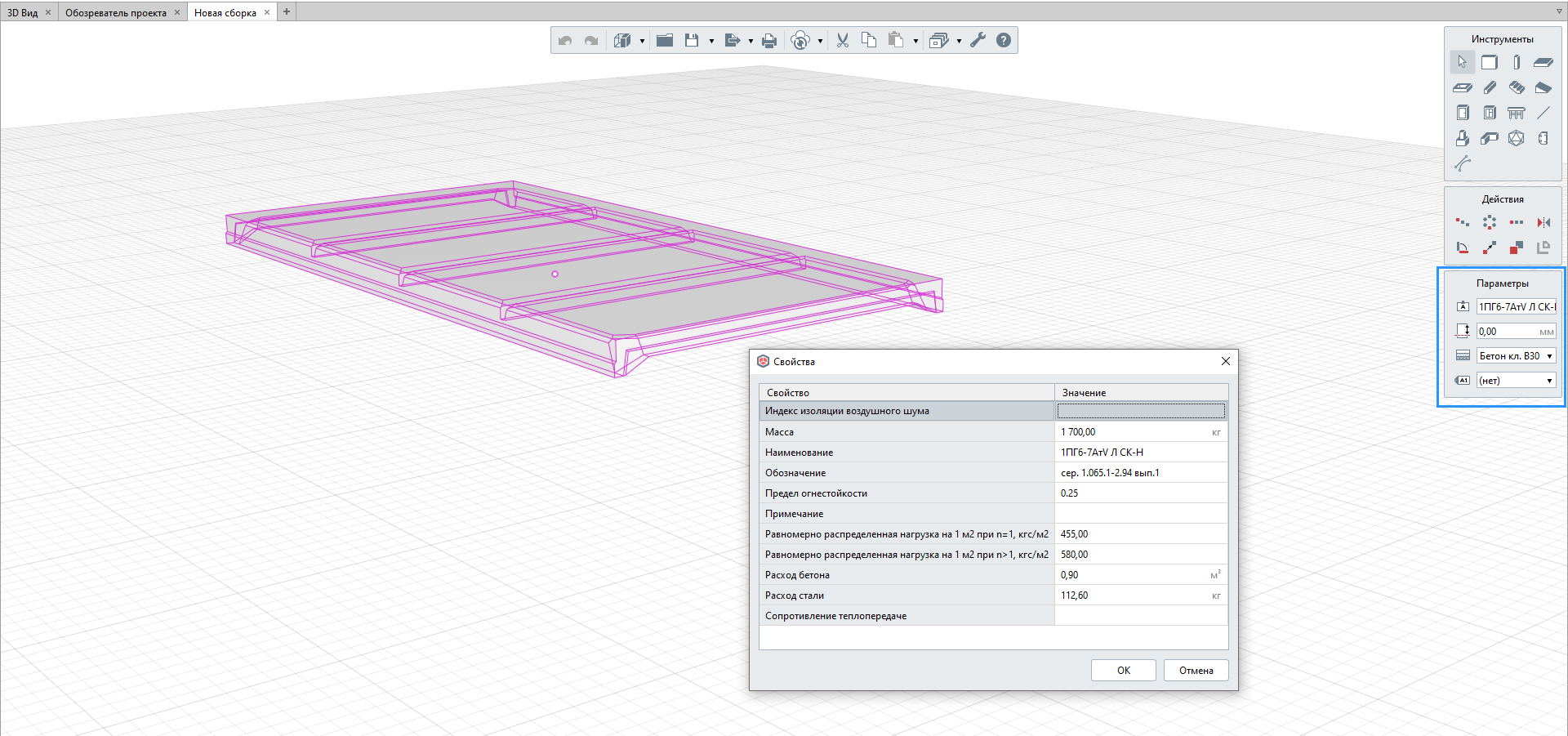 Adding IFC object to the Assembly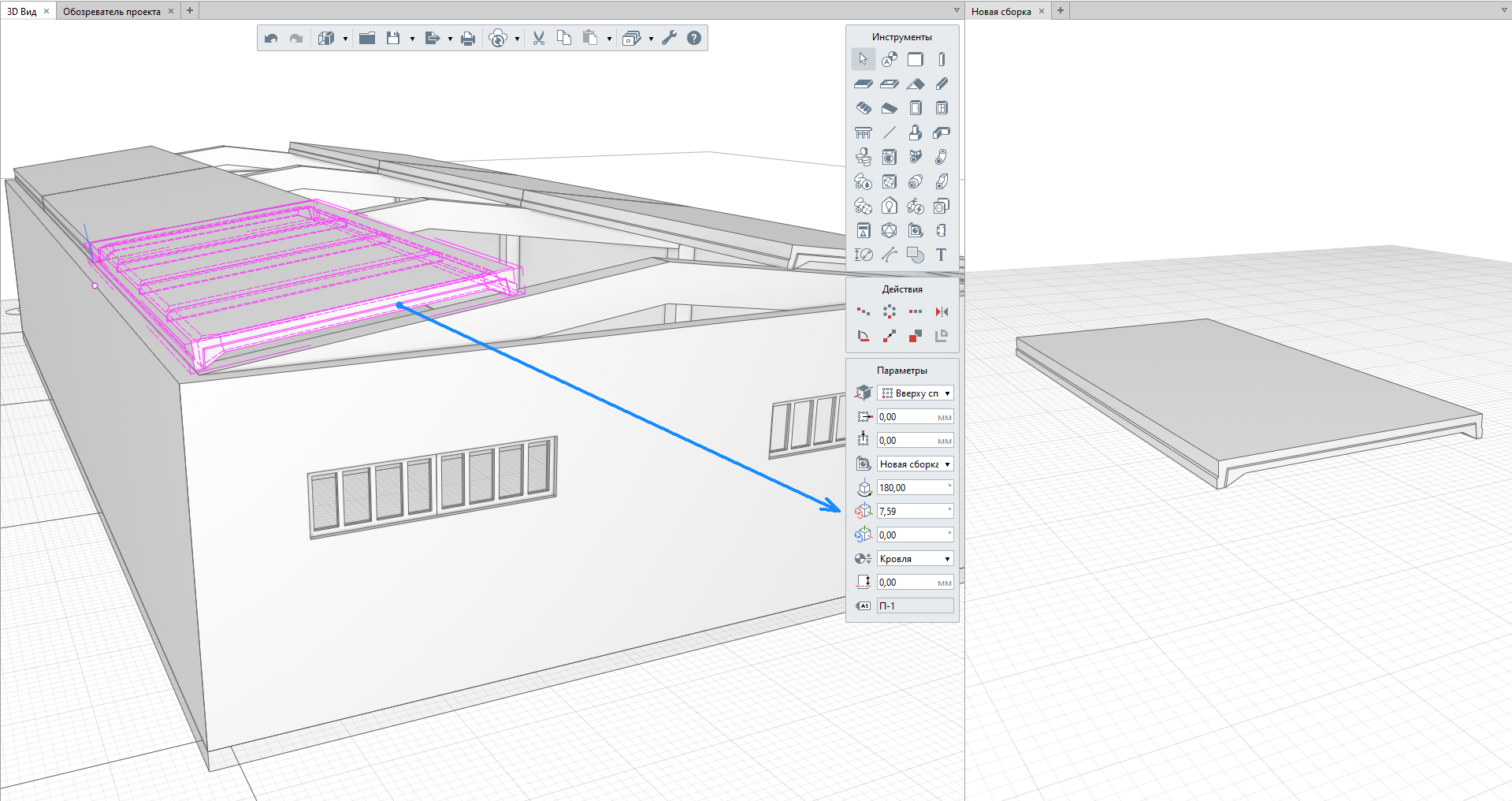 Editing the geometric position of the Assembly with IFC object
A lot of our users requested the ability to open IFC in the File Explorer without opening Renga. The latest Renga release has responded to this feedback and delivered the ability to open IFC in the shortcut menu by selecting command "Open with". This new capability will save our users lots of time by reducing manual effort.
We continue on improving Project Explorer and new Renga release comes with a very useful ability to open project components from the Project Explorer in a new tab in a manner similar to browser tabs. This functionality considerably simplifies Project Explorer navigation for our users when they need to open several assemblies or schedules but don't want to waste their time endlessly scrolling through the explorer page. Designers, having moved to the required section in the Project Explorer, will now be able to open the required thumbnails in new tabs, while remaining with the Project Explorer open in the required section.
We consider Renga system performance to be one of the main competitive advantages, and with this release we're giving your productivity a boost, with better performance that improves the quality of your work in Renga. We've made switching from the visual style to Wireframe mode two times faster. It comes especially in handy when working on large and thoroughly detailed projects with sophisticated MEP systems.
Download our full trial version of Renga right now and experience all tools and functionality that will lead you to improved project outcomes.
Maxim Shibanov, Renga Software director of marketing;
Evgeniy Kiryan, Renga Software marketing manager.