Renga Software team is exited to announce the latest release of Renga BIM system.
Information 3D model is a digital representation of an object filled with the important data. This model can be presented in a form of text, numbers, parameters, etc. All this data is essential for various tasks in the early design stage. Designers can use the outcomes when collaborating with other project stakeholders at each subsequent stage of the building project life cycle. But no matter how much data designers have, various engineering challenges require them to obtain additional information and generate it into documents according to the standards of International Organization for Standardization (ISO).
Previously, to perform a number of tasks, we suggested using export to CSV and data processing in Excel. For example, users could successfully generate schedules taking into account rebar overlaps and obtain the balcony area based on reduction factors. But this approach had one significant disadvantage - it broke the link to the model. In Renga 4.8 we implemented the ability to set expression for object properties. This new feature enables our users to calculate one and more parameters using formulas, and combine text and number values in one parameter. We especially pride ourselves on this functionality since this is a significant advantage of Renga over other BIM software. Users can also set formulas in title block cells. Let's have a closer look at this new functionality using some examples.
Using the formulas, architects can now calculate finished window jambs area, window boards area and window sills area (if there are any).
To calculate finished window jambs area, users can use quantities InnerSurfaceInternalArea and InnerSurfaceExternalArea, but these quantities calculate window jambs area all around the perimeter of window opening. We, on the other hand, need to calculate the area less the area under the window boards and area under the window sills. First thing we've got to do is to check whether the window has boards and sills. If it does - we can apply the formula, otherwise - write the quantity value (InnerSurfaceInternalArea or InnerSurfaceExternalArea) in the expression. Let's take a look at the example below: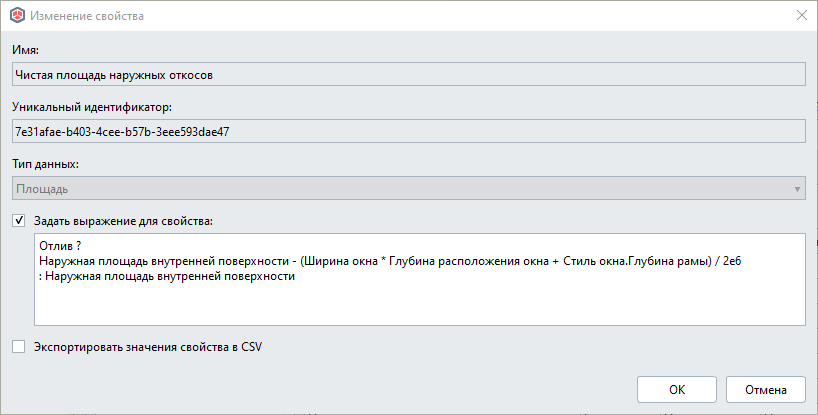 Expression for calculating the net area of outer window jamb. It calculates the window jamb area less the under sill area
Window boards and sills are not represented in window styles nor in parameters, but we can calculate them by adding custom properties.
You can see the outcome at the figure down below:
The expression provides automatic generation of value in the window custom properties
Highlighted properties automatically generate the value according to the given formula. Any adjustments made to the window automatically recalculate values, keeping them always up-to-date. Values can also be very handy when creating various schedules.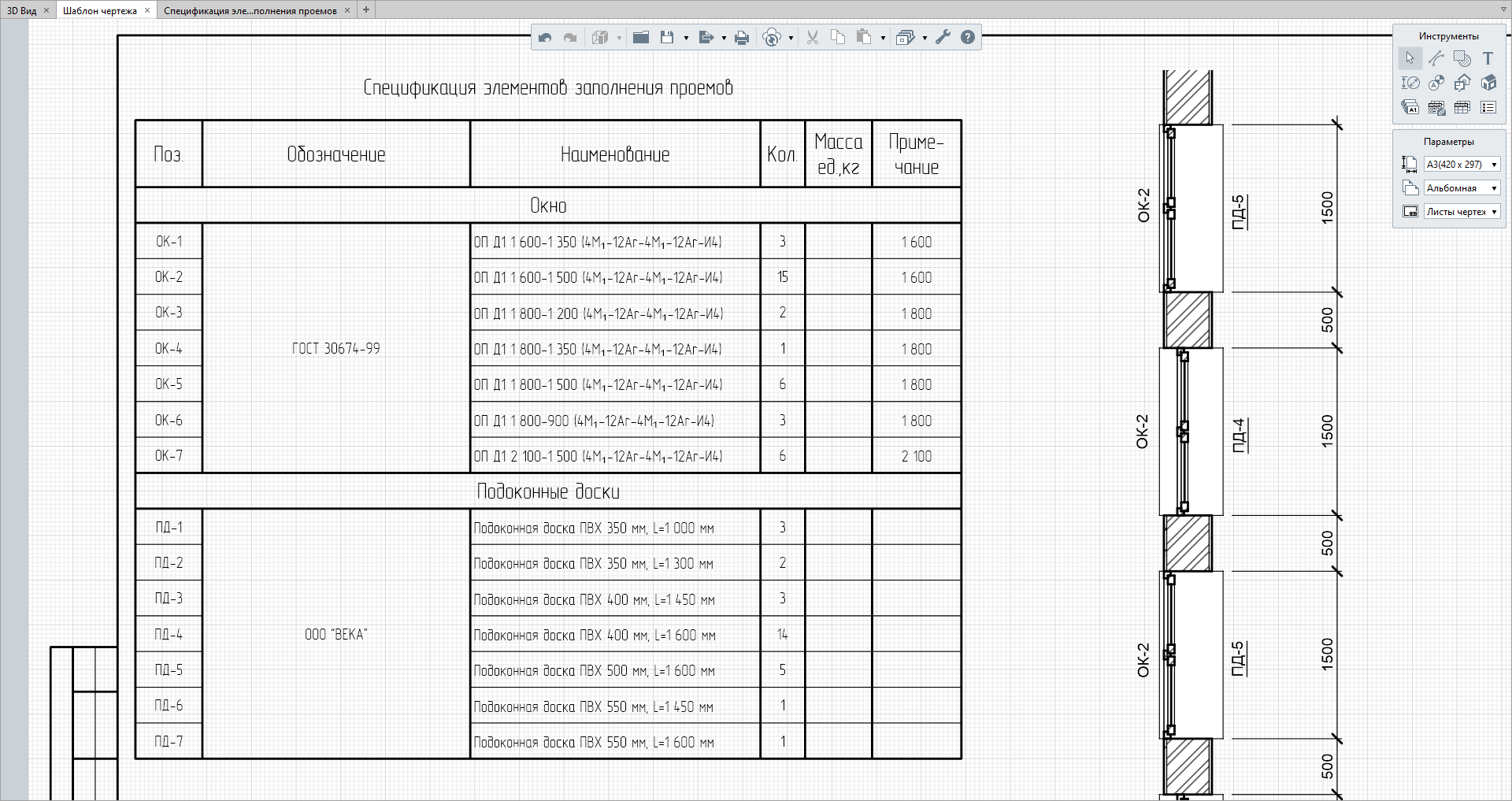 Schedule lists the properties that were obtained using the expressions
Not only architects will benefit from this new functionality. Structural engineers, for example, can now combine object mark, section and length into a single parameter. They also can use correction factor for rebar overlaps when working with cast reinforced concrete structures, and can generate rebar schedules.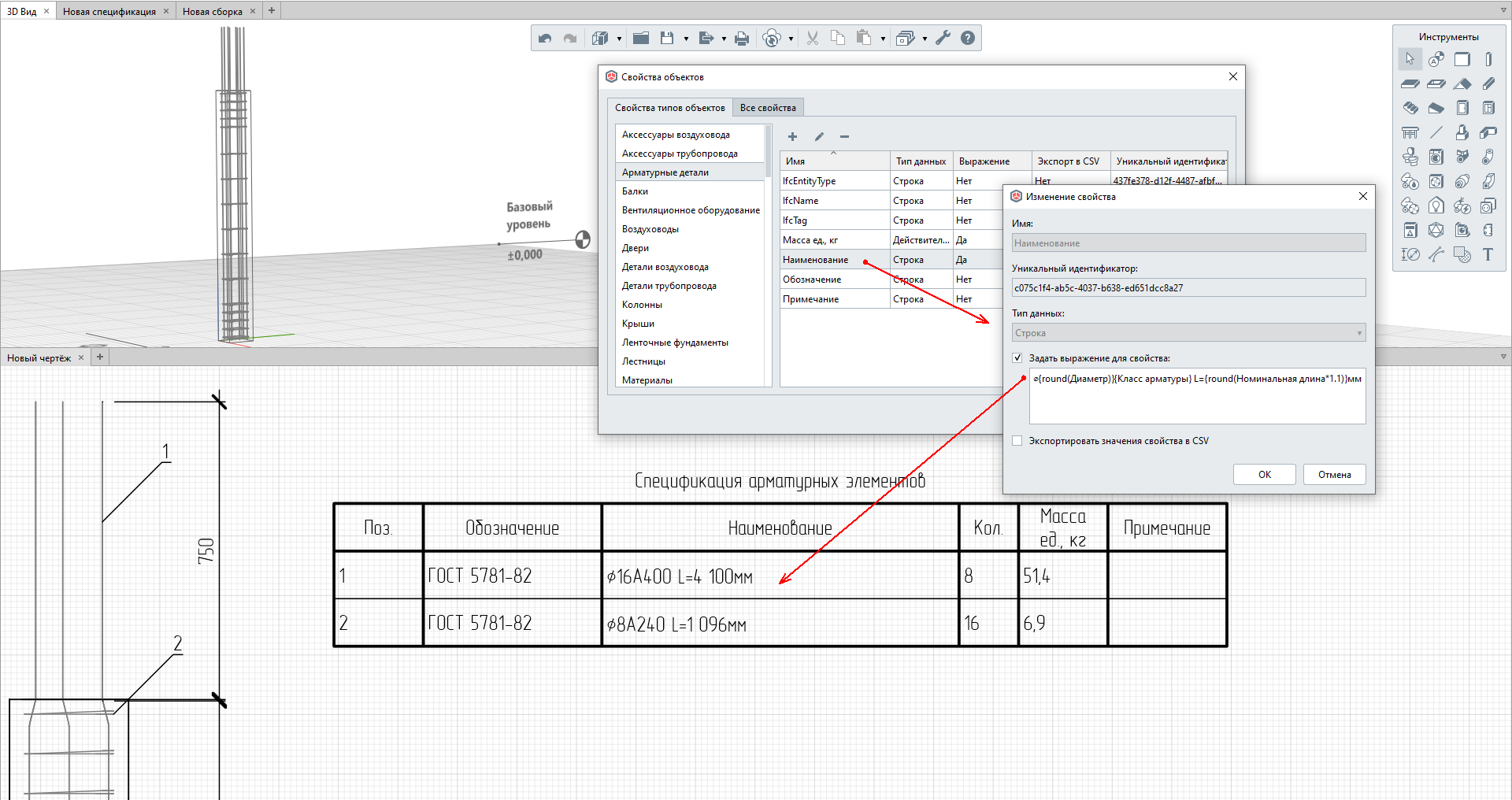 Setting an expression in order to display several properties in one column in the rebar schedule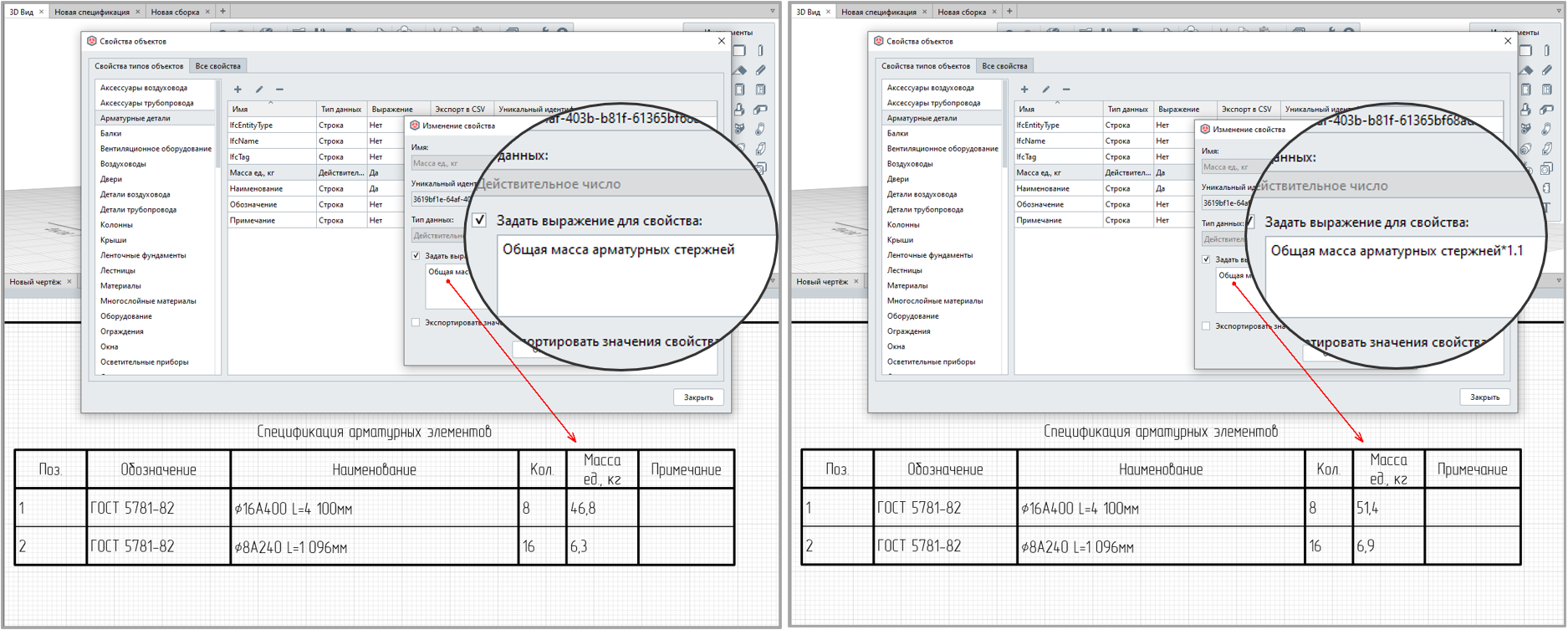 Entering the correction factor for rebar overlaps to the formulas (right - without the correction factor, left - with the correction factor)
Apart from formulas, we implemented something else that will help our users with documenting the project. Latest Renga release enables designers to schedule parts of assemblies in order to create various schedules, sheets and reports.
Using this new functionality, designers, for example, can now generate schedules with the exact amount of lintel beams used in the project.
Let's have a closer look at the example with lintel beams.
Lintel beams that support the walls above the openings usually consist of more than one element. Typically, this is reinforced concrete and metal structures. Designers can assemble the structure and assign it with a mark parameter to insert an assembly into a drawing. But in order to provide the right amount of materials and products for the lintel beams installment, designers are required to schedule the elements that are part of lintel assemblies. From now on documenting the project would be no trouble for Renga users: they can now schedule parts of assemblies and create legends quick and without struggle.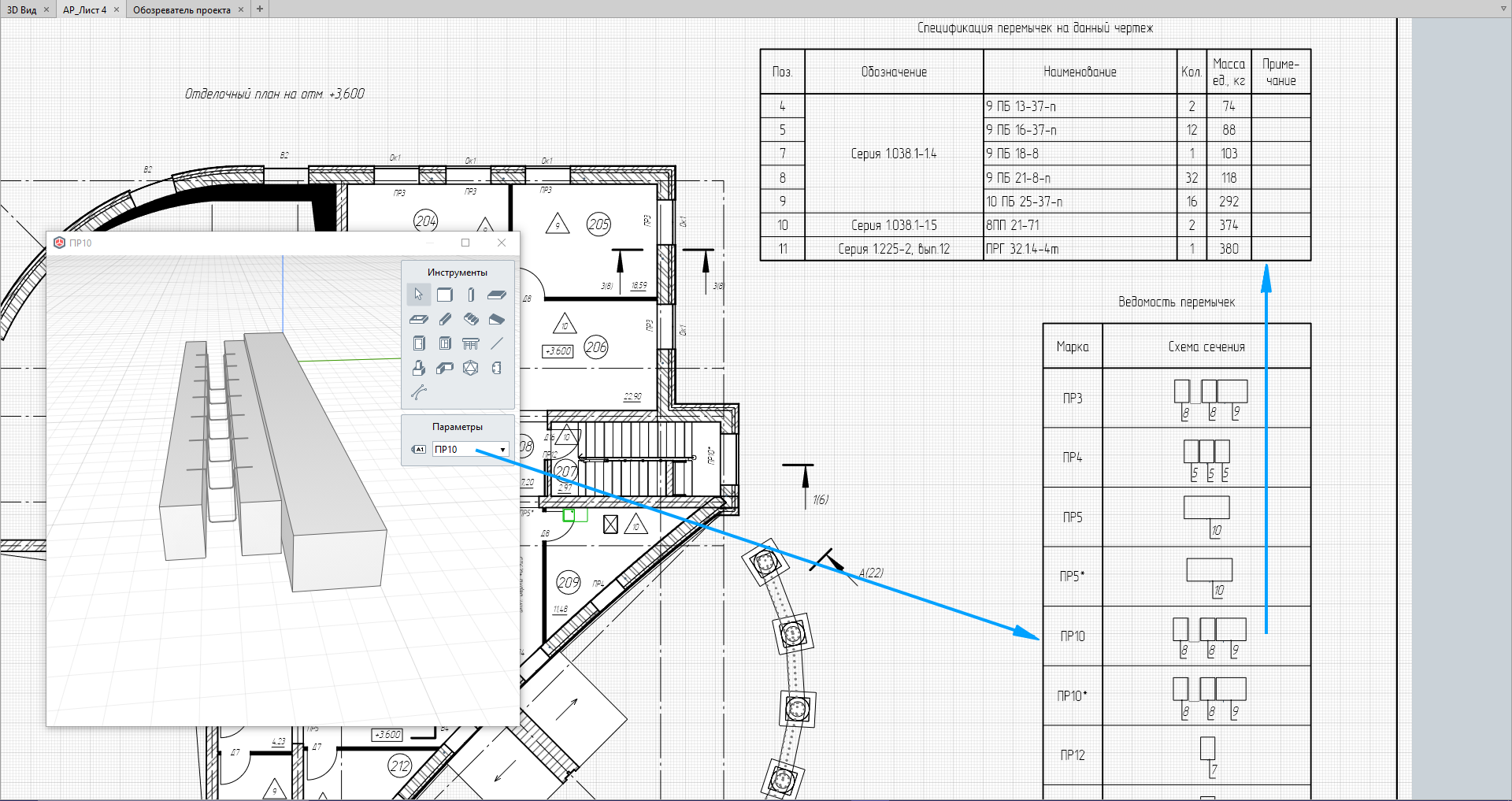 Users can easily schedule lintel beams that are part of assemblies and create lists of elements
When scheduling the required object, designers can now identify whether this object belongs to the assembly or not. To this end, our development team has added new properties for objects that can be included to assemblies: ParentShapeMark, ParentShapeName and ParentShapeUniqueId. Using the properties, designers can create filters and apply them to schedules and drawings, generating the required reports and drafting views.
Improved Renga functionality benefits not only designers, but also process engineers. Throughout the first half of 2021 Renga team has been developing toolset to help our users design the equipment imported from solid modeling formats. It provides Renga users with the ability to:
add elements and model lines to assemblies;
snap to edges and faces of objects to ensure the more precise placing of additional elements.
In addition to the above, new Renga release allows to snap to edges and faces in 3D view as well, meaning our users can now connect equipment to the utility systems placing the connection point to the desired location, and place foundations right under the equipment.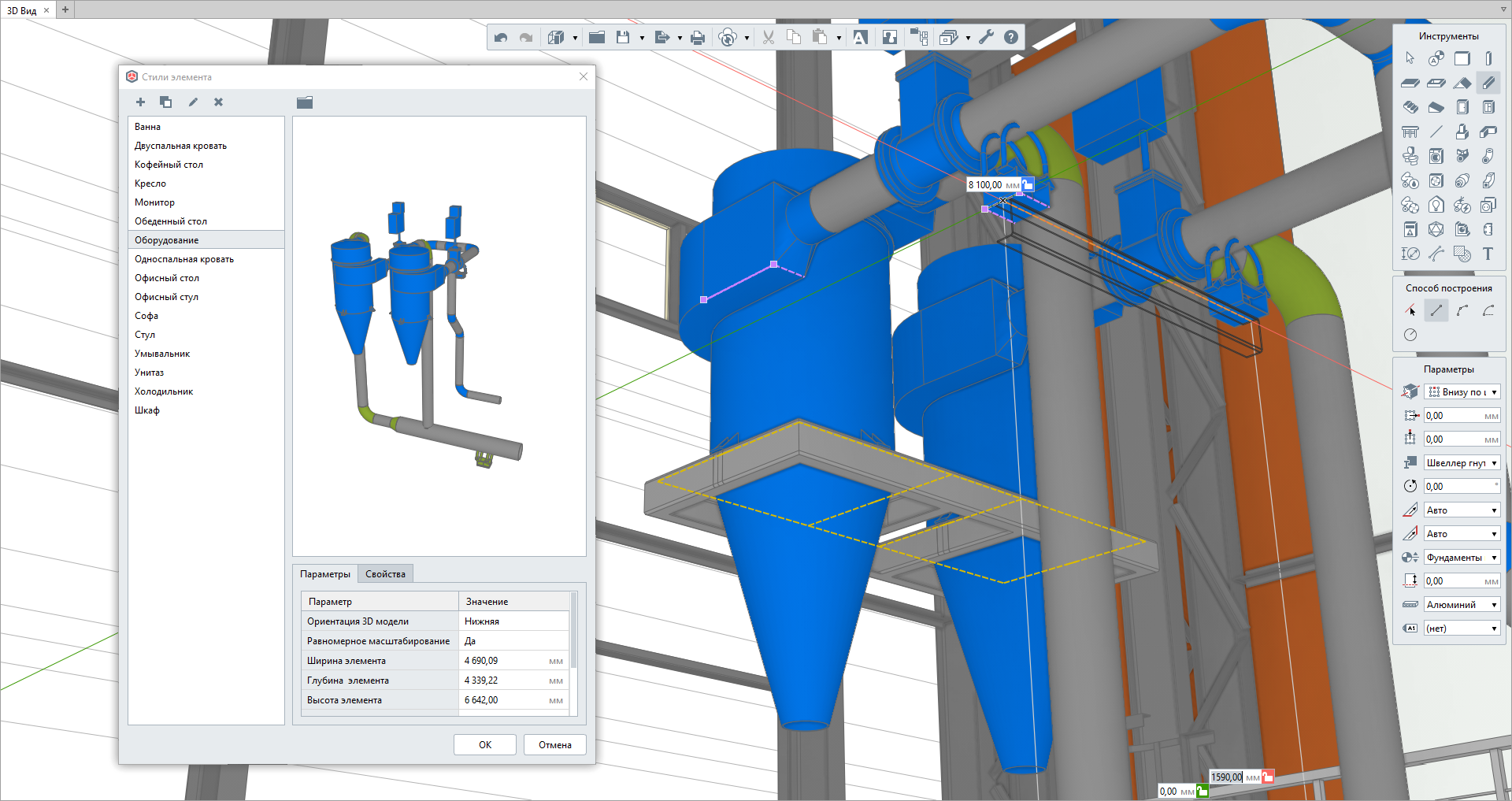 Snapping to the production equipment imported to Renga as the Element
Latest Renga updates enable users to make the right decisions, adopt rational structural concepts and capture design intent, saving time and boosting productivity. AEC professionals of all stripes will benefit from the ability to work with the imported solids: architects can now model imported furniture and architectural elements; structural engineers can design metalware and connecting elements created in third-party software; MEP engineers will appreciate accurate positioning of imported equipment, parts and plumbing fixtures.
We strongly believe that copy and paste commands are one of the most important features on the modern computer. We are talking about new Renga functionality – ability to copy and paste drawings in the Project Explorer. And those who underestimate "copying" simply do not understand its benefits. In the previous versions of Renga BIM system we implemented the ability to copy Tables, Schedules and Assemblies not only in one project, but between multiple projects as well. It enables designers to use schedule templates, ready-to-use tables and structural precasts with customized filters, fonts, groups, etc. in just two clicks. This functionality saves a great deal of time and effort. But we didn't stop there. New Renga release comes with an important and much requested ability to copy drawings. Along with the drawing, users can now copy sheet parameters with already configured Layout style, Display style, Tables, Schedules, Text, etc. This update saves a greate deal of time, increasing labour efficiency, and minimizing time and effort spent on documenting the drawings (using borders and title blocks, and data from other templates). It is worth noting that Revit has yet no features for copying drawings from one project to another.

Ability to copy drawings
This release continues to deliver an important piece of functionality from our Renga Roadmap: new enhancements geared towards the tools for reinforcement. One of them is the the ability to filter rebars in views. This functionality considerably boosts productivity for users designing cast reinforced concrete structures. For example, in order to separate bottom reinforcement from top reinforcement of floor slab in the drawing, users can now hide it using filters in the slab views.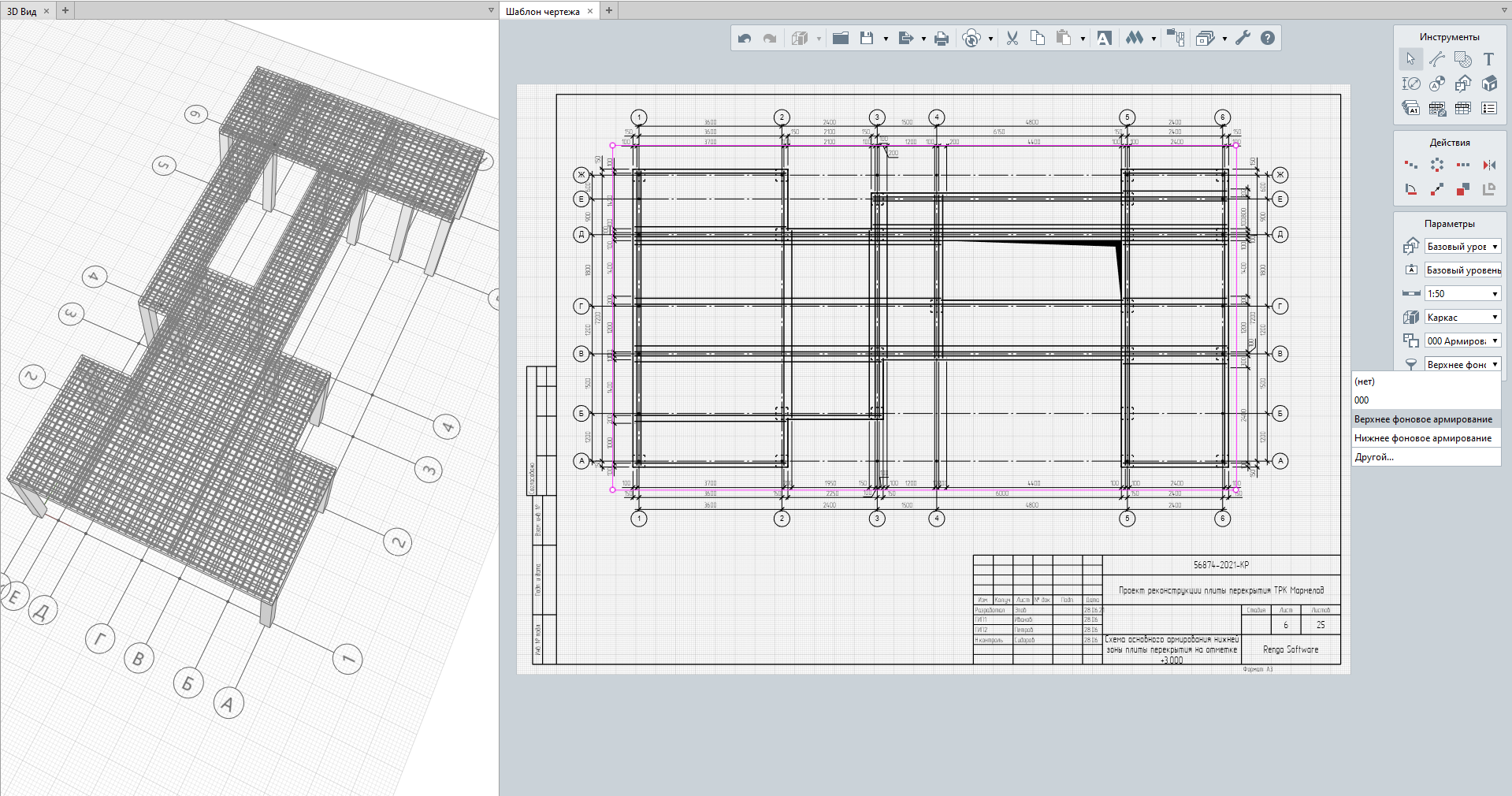 Using the reinforcement filters in drawings
Besides improving drawing workflows, this feature will help designers to control the display of rebars in 3D view as well, providing a much more detailed reinforcement of structures.
Making improvements to the speed of Renga workflows is one of our main priorities, and we always try to find opportunities for enhancement.
Previously, designers had to deal with lengthy rebuildings when changing one or more objects. For example, when changing the height of several selected columns, the rebuilding occurred for each entered digit that makes up the value of the column height parameter. The adjustments used to take some time. This problem was especially crucial for projects with large numbers of identical objects. That's why we've changed the logic of editing the parameters: first, users enter the required value and press Enter key to complete the entry, after which Renga rebuilds the selected objects once. This great update helps to avoid unnecessary calculations and saves both time and effort when working with 3D models.
We also significantly improved export to IFC, providing the ability to re-use the geometric representation of assemblies. This update makes the final IFC file much more lightweight. Users will see the difference (compared to previous releases) in file sizes containing a large amount of assemblies. In some cases, the final file size can be reduced by half (for example, structural model of the building that has many structural assemblies). This tool is not only an obvious time-saver and productivity booster, but it helps users do a better job creating the content that captures design intent.
But that's not all what we have in store for IFC. Support for IFC4 format has always been one of our top priorities, and Renga development team packs a powerful punch in this department implementing the final piece of functionality required by the Model View Definition of the IFC4 Reference View (IFC4 RV - 1.2). According to this definition, objects made up of parts must be transferred to the IFC with a material assigned to each part of the object. Work in this area started in the previous release and, first of all, the ability to assign material to parts of objects when exporting to IFC was implemented, for example, such objects as windows and doors (consisting of a structure and filler - glass).
In the new release, the ability to export to IFC objects with multilayer materials with division into parts has been added. This applies to walls, floors and roofs. Accordingly, each layer of the structure will be assigned with its own material. This functionality can be controlled by users in the menu: Settings - Export - IFC4 parameters. It can be used when exporting to other software and for solving problems for which the Reference View model representation is best suited. For example, this will definitely have a positive effect on the joint use of Renga and Pilot-BIM.
As a result of a long-term work, we can officially declare that from this release Renga fully complies with IFC4 RV - 1.2, which is standardized as an international standard for open data transmission - ISO 16739.
Moving on.
As you may already know, Renga roadmap contains statements regarding solely future plans and development efforts for our products. Which means we can sometimes digress from the roadmap and implement new features, especially when they are highly requested bu our users. One of such features is ability to change the Settings dialog and PDF Import dialog sizes with the mouse. Settings dialog was improved in order to make working in IFC Export menu more convenient. And PDF Import dialog improvement allows users to adjust the size of PDF document preview when enlarging the dialog itself. Users will find it extremely handy when importing multi-paged PDF documents.
Our continued investment has been focused on where we believe the important value lies for our construction customers — in providing seamless workflows for the entire project team by improving integration with other software solutions. The updated API Renga is reflective of this commitment to our users. Newly extended functionality provides access to title block cells in drawings and access to assembly objects. That means our users can now extract data from title block cells in Renga drawings and fill in the form views in Pilot.
We also implemented batch OpenXPS export, and the ability to combine a multipage OpenXPS document. This feature was highly requested by our users.
As you can see, this release delivers multiple new functionalities and some enhancements that help our users generate consistent, coordinated, and complete model-based building workflow at any stage of design. Download our full trial version of Renga right now and experience all tools and functionality that will lead you to improved project outcomes. If you already have Renga installed on your computer, you can download only the update, which is more lightweight than distribution package.
Maxim Shibanov, Renga Software director of marketing;
Evgeniy Kiryan, Renga Software marketing manager.